Symposium on Queer Care Communities (129)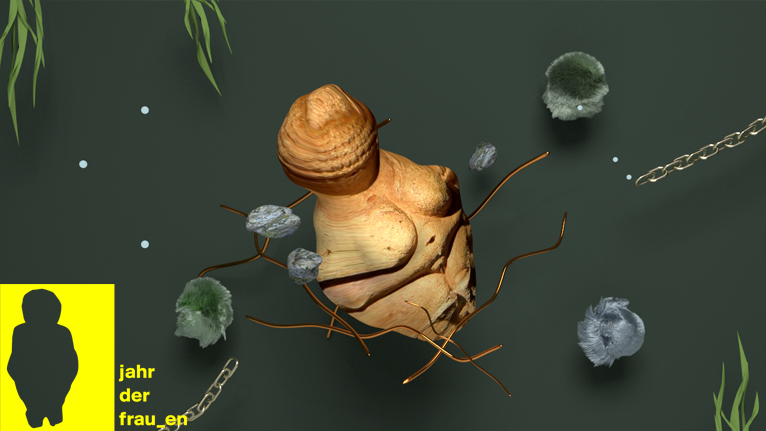 How do LGBTIQ+ persons organise care issues in their lives? In a hetero- and cisnormative as well as heterosexist world, LGBTQIA+ persons face questions about their health care, their ways of living and loving and their reproductive performance in different ways than heterosexual and cisgender people. Minority stress, shame vs. self-assertion, being accepted vs. being rejected, discrimination vs. tolerance: What does a queer identity mean when the shaping of life goes beyond personal close/love relationships and we as queer persons have to juggle constraints and everyday pragmatism made necessary by care work? In five lectures we will illuminate and discuss various topics around queer care work from a scientific and activist perspective.
All lectures will be translated into Farsi via whispered translation.
11:00–12:15 am:
Dr. Mike Laufenberg:
"To Care is to Struggle: Communities of Care between Exploitation and Emancipation"
12:45–13:45 pm:
Constanze Körner (LesLeFam):
"Lesbian family life - Care Work in every Relationship!"
14:45–15:45 pm:
Francis Seeck (Institut für Queer Theory Berlin):
"Transforming Care - Collective Care Work in Trans, Non-Binary and Queer Spaces"
16:15–17:15 pm:
Dr. Farzada Farkhooi:
"These times are full of knots that cannot be spoken"
17:45–18:45 pm:
Dr. Gisela Fux Wolf (VLSP*):
"Psychotherapy as part of health care: Conditions of Good and Meaningful Psychotherapy"
Short Biographies of the Speakers:
Dr. Farzada Farkhooi on behalf of the Care / Accountability / Conflict / Awareness (CACA) collective: CACA collective came into 'community accountability' and conflict resolution work rather incidentally, by way of necessity and circumstance. We took part in experienced conflict, hurt, systemic or interpersonal harm—as one does in this shitty world—and we were lucky to find ourselves in places of being able to offer our time, energy and emotional support. We wanted to (1) address and do something about the oppressive structural dynamics that we were reproducing, (2) train more people with the tools to deal with conflict resolution, de-escalation and care, because 10 people coming together spontaneously without any prior training could not do an adequate job of maintaining a safer space, and (3) to cultivate a stronger sense of accountability and awareness toward one another within a broader community.
Constanze Körner studied ethnomusicology, historical musicology and journalism and communication sciences at the Free University of Berlin. While still a student, she volunteered for the interests of rainbow families and was able to offer the first counselling and networking services in Berlin under the auspices of the LSVD Berlin-Brandenburg as project manager for the topic of rainbow families in 2006. In 2013, she opened Germany's first rainbow family centre in Berlin-Schöneberg and initiated the first services for rainbow families in Brandenburg. This year, together with numerous lesbian mothers, she founded the Lesben Leben Familie (LesLeFam) association and is still a freelance speaker on the topic of rainbow families throughout Germany. She now works full-time for a diaconal organisation and lives with her rainbow family in Köpenick. She is married and cares for 5 children between the ages of 8 and 23 with her wife.
Dr Mike Laufenberg is a sociologist, gender researcher and amateur sex therapist. He has been working professionally and politically-activistically on the topics of care work, community building and queerfeminist politics for many years. Since 2012, he has been a research assistant at the Centre for Interdisciplinary Women's and Gender Studies at TU Berlin, where he is currently leading a research project on the influence of welfare state change on living with dementia. Since 2015, he has been organising the Queerfeminist Kitchen at SMU together with Dr. Birgit Bosold - a space for sharing and arguing about issues in Berlin's LGBTIQ communities.
Francis Seeck is a cultural anthropologist, lecturer and anti-discrimination trainer doing a PhD on collective care practices in trans* and non-binary spaces. Francis works professionally and activistically on the issues of classism/class, care, grief and gender diversity. Francis teaches gender and queer studies in social work at Alice Salomon University of Applied Sciences and is active with the Institute for Queer Theory. In 2017, Francis published Right to Mourning with Edition Assemblage. Funerals from a Power Critical Perspective.
Dr. phil. Dipl.-Psych. Gisela Fux Wolf, psychological psychotherapist, 1968, doctorate on lesbian women's health, previous areas of work: lesbian-gayqueeretrans educational work, including community-oriented educational work on substance use, lesbian counselling, lecturer in gender studies, research assistant in clinical psychology, currently psychological psychotherapist in private practice in Berlin. Research fields: Health of lesbian women and trans people, psychosocial networks and barriers in health care towards marginalised patients, board member of VLSP (Association for Lesbian, Gay, Bisexual, Trans, Intersexual and Queer People in Psychology).
The symposium takes place in cooperation with the association LesLeFam (Lesben Leben Familie), the Institute for Queer Theory Berlin as well as the VLSP (Association for Lesbian, Gay, Bisexual, Trans, Intersexual and Queer People in Psychology).