Daphne – Lesbian Art Salon: Kerstin Drechsel and Simon & Simone (060)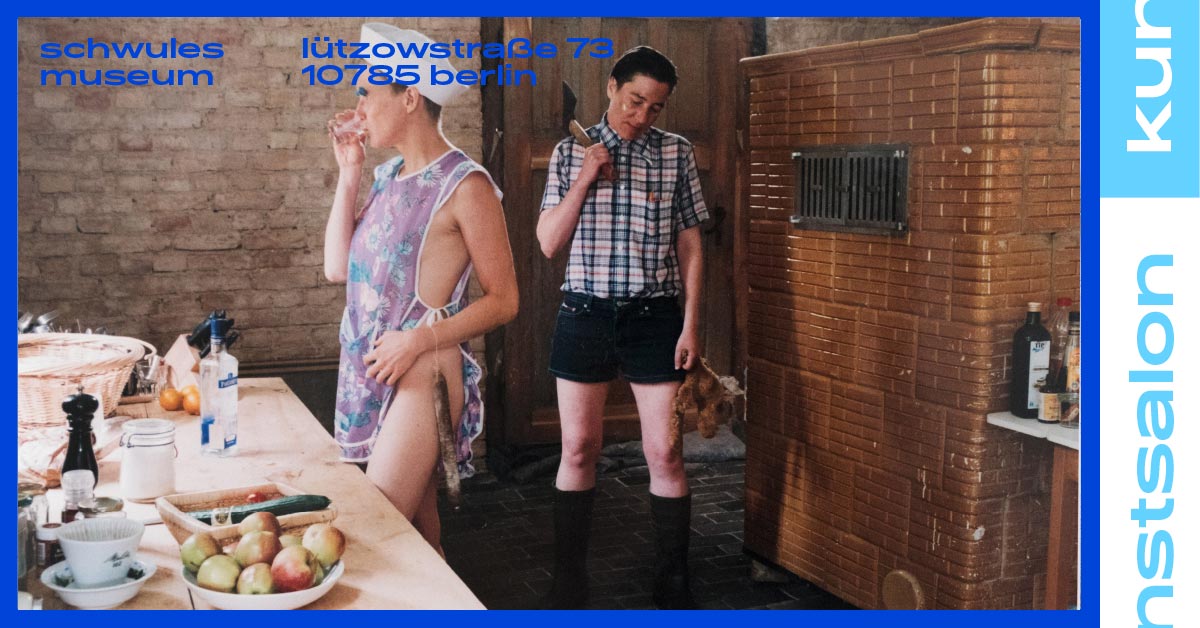 Why the representation of sex in art does not always have to be serious, and whether a humorous turn can be a subversive as well as feminist strategy of re-appropriation, we want to ask the artist duo Simon & Simone and the artist Kerstin Drechsel at this artist talk.
We invite you to the Daphne - Lesbian Art Salon to reflect on the exhibition LESBIAN VISIONS in artist talks, lectures and performances. In a relaxed atmosphere, we want to discuss "lesbian" subjects, women* in art and art history, the representation of queer sexuality from a non-heteronormative perspective and the possibility of a different feminist view of femininity and the body.
Kerstin Drechsel was born in Reinbek near Hamburg and is a freelance visual artist in Berlin. She studied at the University of the Arts in Berlin and is a master student of Achim Freyer. Her work has been shown in numerous solo and group exhibitions, including. Das Achte Feld, Museum Ludwig, Cologne; Just different, Cobra Museum, Amstelveen; trouble in painting, BBB centre d'Art, Toulouse; Painting forever - Keilrahmen, Kunst-Werke Berlin; I Queerelanti, neon>campobase, Bologna; Berlin: Tendenzen, Palau de la Virreina, Barcelona; Gallery for the Central Bohemian Region, Kutna Hora; Meatdistrict, Mama, showroom for Media and Moving Art, Rotterdam; A Room, De Markten, Brussels; surf, Künstlerhaus Bregenz; I * FEMINISM, SEPTEMBER, Berlin; Jan-Holger, Vane, Newcastle; Pflegekind 2, Galerie Carolyn Heinz, Hamburg; Wie wenn am Feiertage, Zwinger Galerie, Berlin. Her catalogues In Wärmeland, ed. Goldrausch Künstlerinnenprojekt and MITTELERDE, ed. SEPTEMBER are published by Vice Versa Verlag, Berlin. Her monograph Wärmespeichersysteme was published by Hatje Cantz Verlag, Ostfildern. Contributions to numerous publications, including New German Painting Remix, Prestel Verlag, Munich.
Grit Hachmeister and Claudia Gülzow, alias Simon & Simone, met in 2005 and have been inseparable ever since. Good times and bad times alternated. The sun always shone in their study. Simon & Simone caused a sensation in 2014, among other things, with the legendary Simon & Simone Erotic Art Calendar and with their ongoing fusion of image and text (e.g. in 2015 at Redemption Jokes at the nGbK Berlin). They are said to have not only the necessary drop height to manifest excellent humour in their work, but also a barbed intelligence and hot bodies. In their spare time, they like to play table tennis.