5. Mond: T-Shirts, Schnurrbärte und latente Theorien – künstlerische Manifeste und Verkörperungen (029)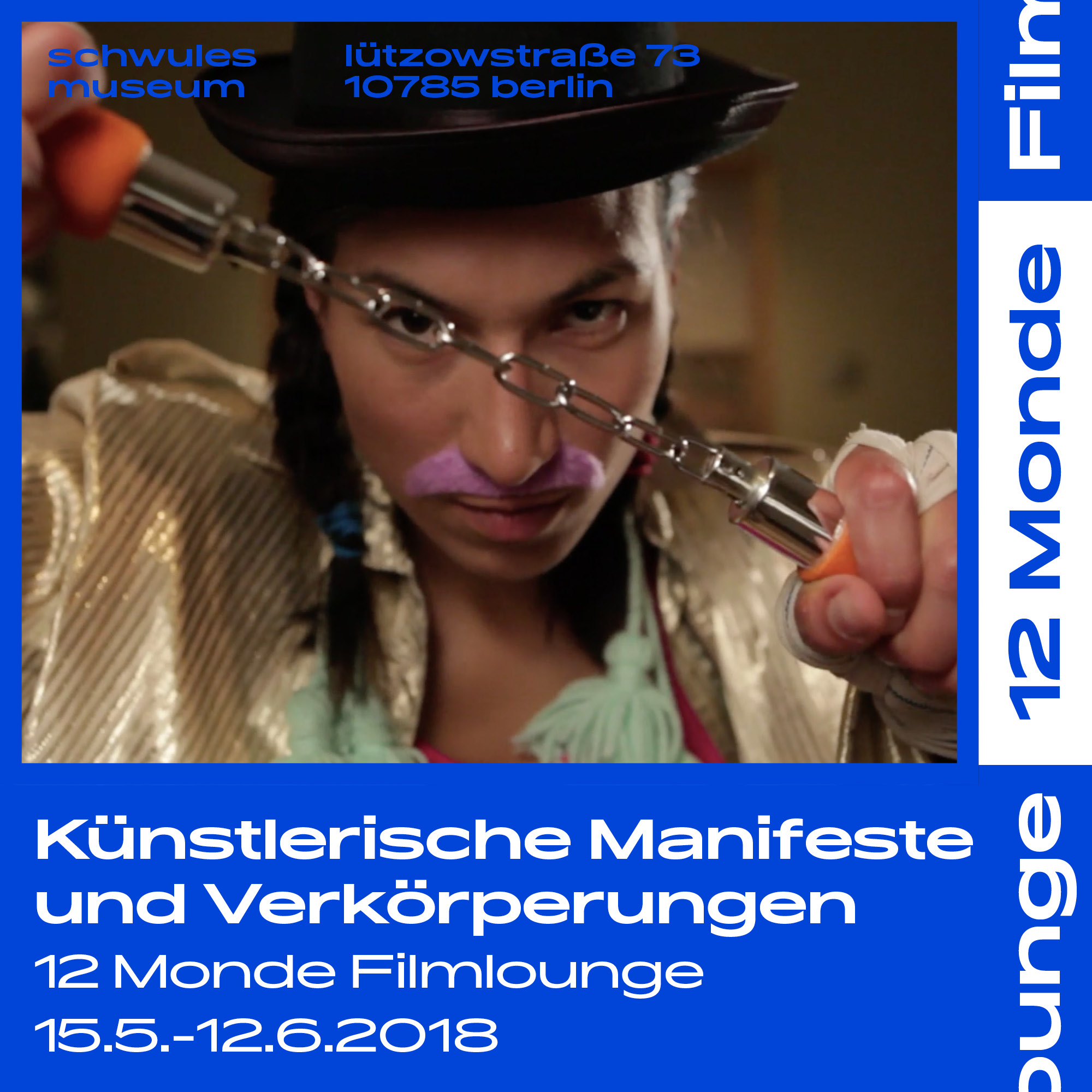 Die Filme des fünften Programms der 12 Monde Filmlounge sind Kampfansagen und Liebeserklärungen: gegen kolonial-rassistische Repressionen, gegen das "Andern" von Körpern, gegen starre Identitätskonzepte und für die Entwicklung neuer Sprachen, Formen und Koordinaten. Für Selbstbestimmung und Kollektivität, körperliches Denken und seine Resonanzräume. Dafür, Manifeste zu leben und Theorien zu erträumen.
Die Künstler*innen stellen in Form von Tanz, Performance, Malerei, Rap, Text, Musik und experimentellem Video bestehende Machtverhältnisse zur Disposition, Feminismen und Identitätspolitiken unterschiedlicher Generationen reiben sich aneinander, Positionen schließen sich an und/oder aus. Die Filmauswahl, gezeigt als Projektionen und auf zwei Monitoren in der 12 Monde Filmlounge, verdichtet künstlerische Perspektiven aus drei Jahrzehnten zu einer komplexen Befragung der Politiken des Sprechens über Identitäten und Körper.
Kommen wir vielleicht den Antworten durch Selbstdurchbohrung näher? Und sollten wir sie auf T-Shirts drucken? Lesen wir aufgeklebte Schnurrbärte hierzulande genauso wie andernorts und wie können die Erfahrungen "weiblicher" "Körper" im postidentitären Diskurs relevant bleiben? Wie können uns Avatare dabei helfen, eine radikal neue Sprache zu entwickeln, an deren unscharfen Rändern so etwas wie Solidarität möglich erscheint? Text trifft auf Körper, Wort auf Bewegung, Geschichte auf Zukunft. "Verausgabung ist geil. Küssen auch."
Die Filme im 5. Programm (Filmbeschreibungen von den jeweiligen Filmemacher*innen):
Working On It von Karin Michalski, Sabian Baumann
Deutschland/Schweiz, 2008, 50 Minuten, Deutsch mit englischen UT
Working On It verhandelt queere Strategien sexueller Politiken mithilfe von Interviews, Inszenierungen und Queer Electronics. Der Film sucht experimentelle filmische Mittel, die das "Sprechen über sich selbst" als eine brauchbare Fiktion und als eine notwendige Arbeit ausstellen. 15 Bildende Künstler*innen, Theoretiker*innen, Aktivist*innen und Musiker*innen, bekannt aus der Berliner Szene, sprechen darüber, was es heißt und wie es möglich ist, in öffentliche Bilder von Sexualität und weiß-sein einzugreifen, eine neue Sprache für mehr als zwei Geschlechter zu erfinden, am Arbeitsplatz Abwertungen sexueller Identität zu wenden und kulturelle Produkte und künstlerische Aktionen herzustellen. Mitwirkende: u.a. Pauline Boudry, Renate Lorenz, Brigitta Kuster, Tünya Özdemir, Sam Sherlock, Andriana Andrew, Jasco Viefhues, Annekäthi Wehrli, Beatrice Michaelis, Elahe Haschemi Yekani, Jannik Franzen, Steffen Kitty Hermann, Doro Wiese, Elfe Brandenburger, Ins A Kromminga. Mit Musik von: Heidi Mortenson, Rhythm King and Her Friends, Scream Club, Lesbians on Ecstasy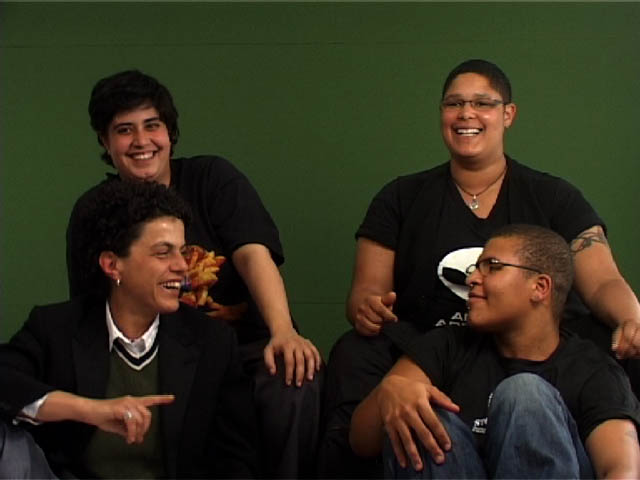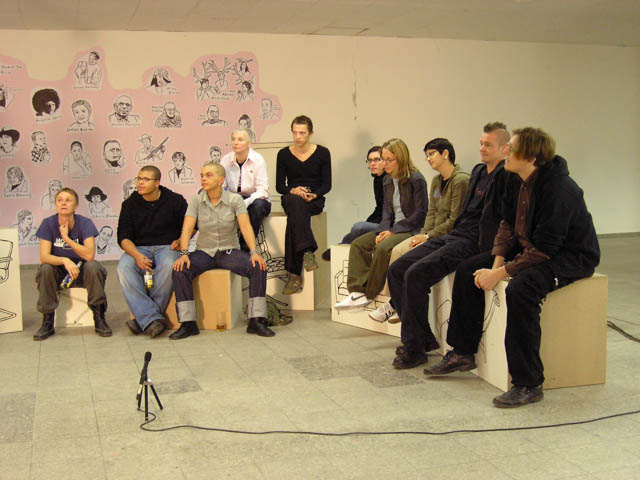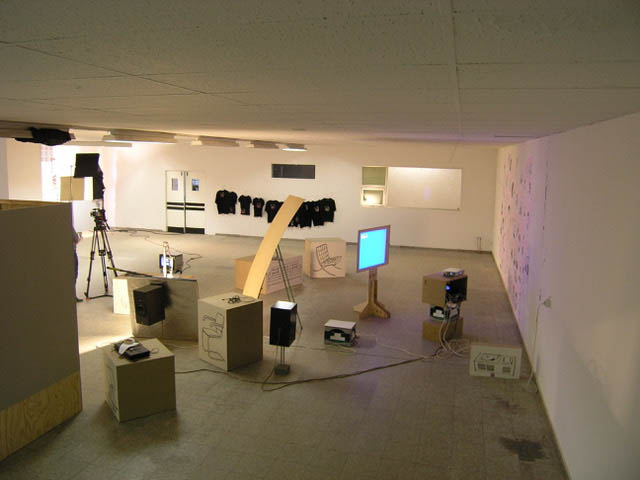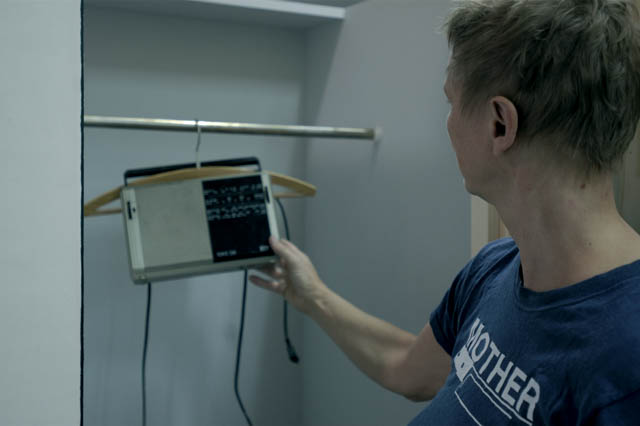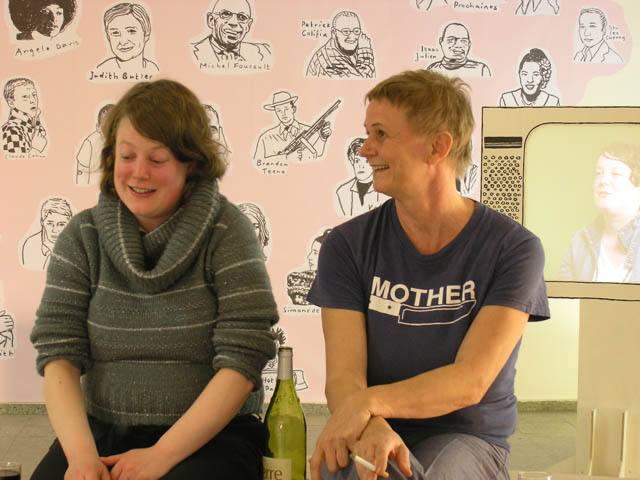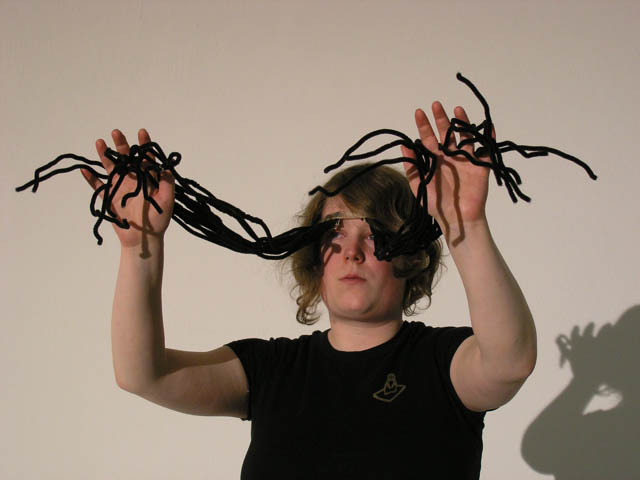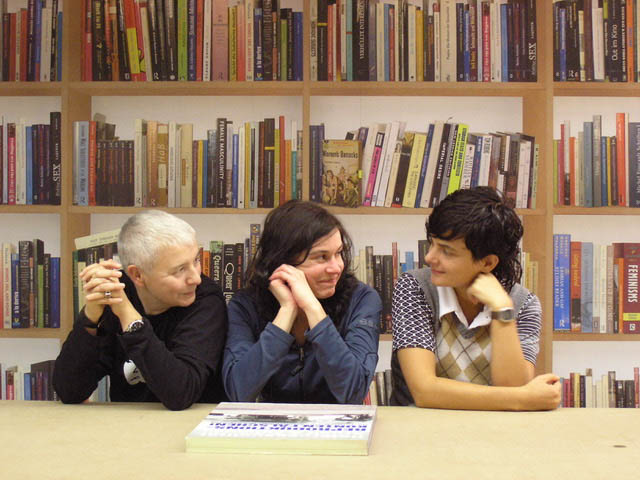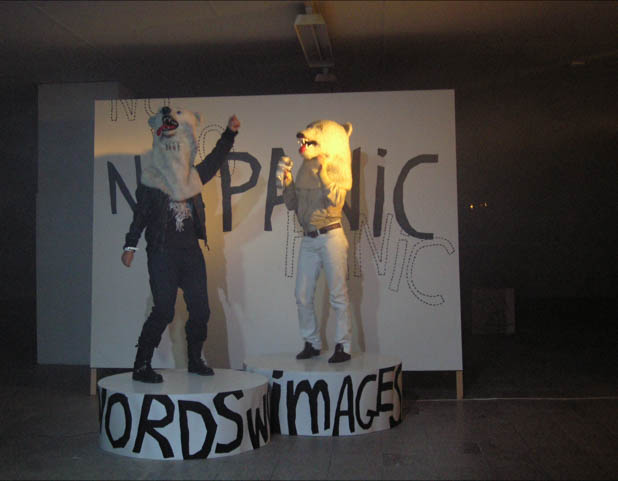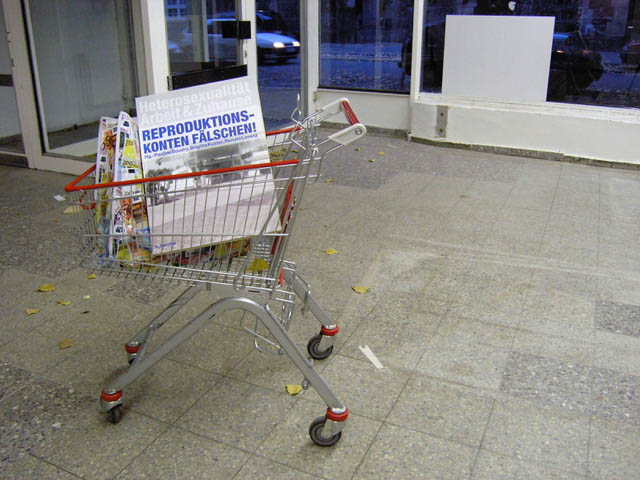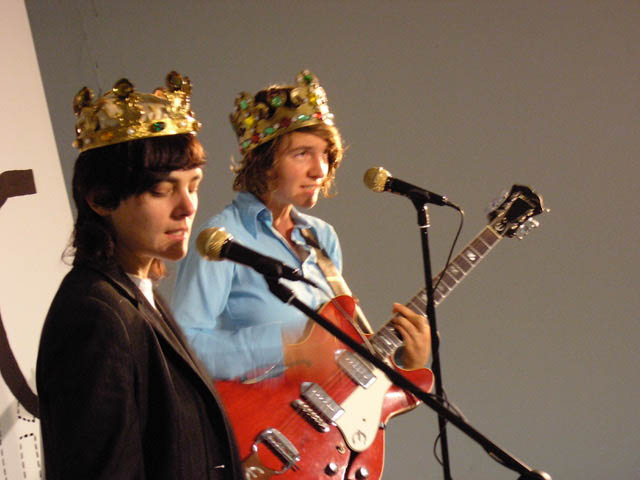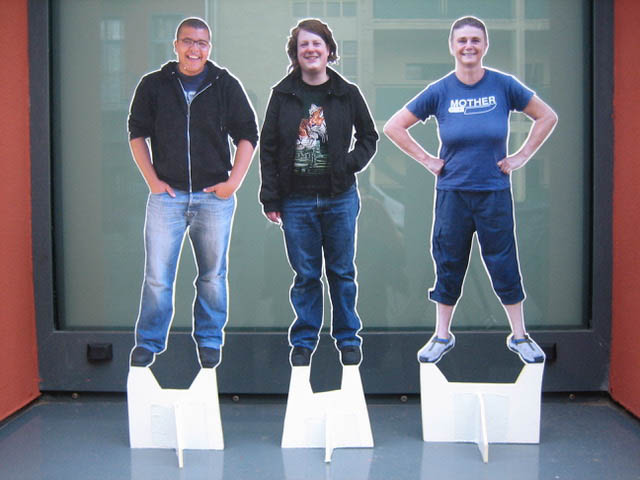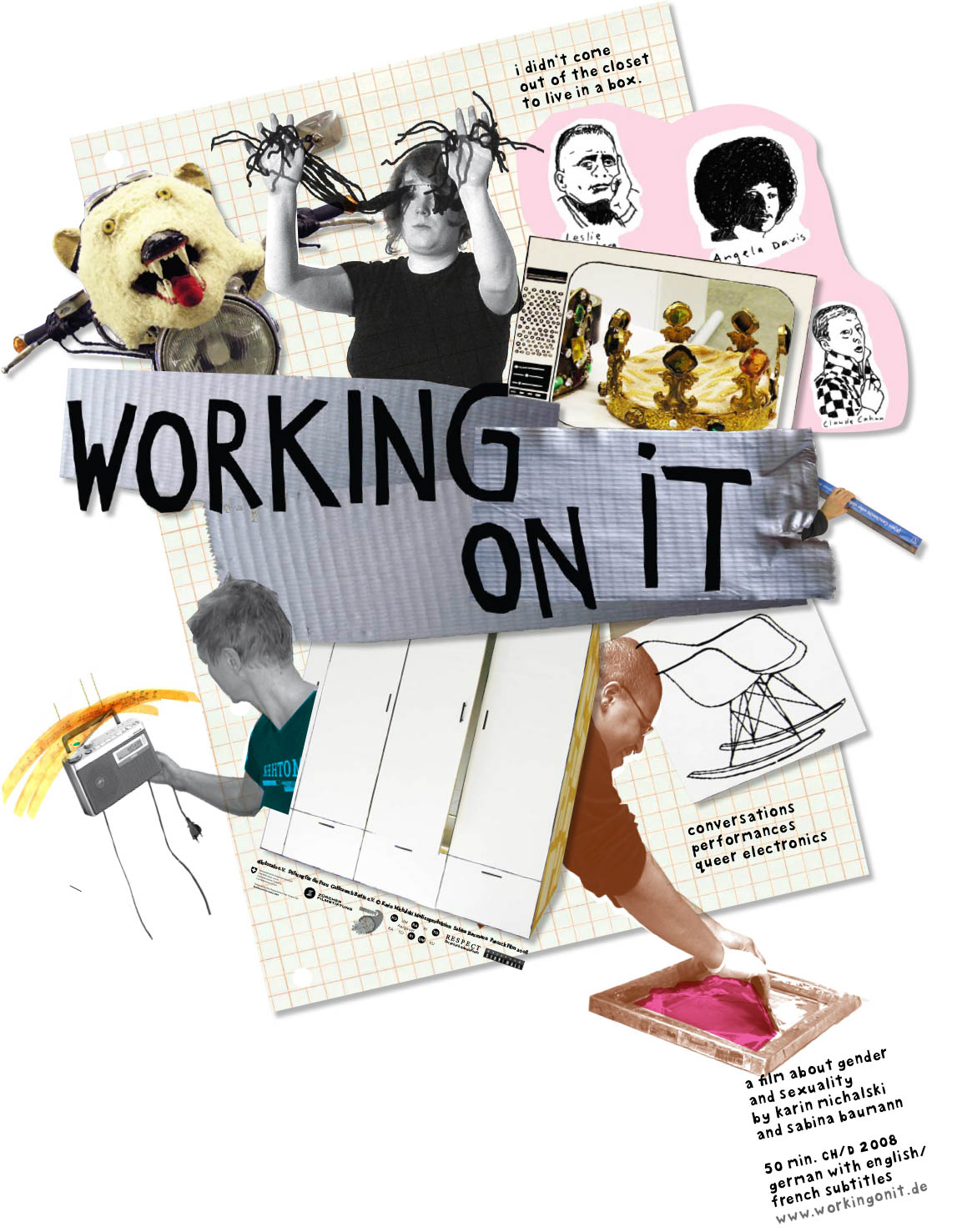 +
#manifestA von Nathalie Percillier
Deutschland, 2012, 80 Minuten, Deutsch mit englischen Untertiteln
Basel, 1998: Künstlerinnen verschiedener Generationen rufen ihr Erstes Manifest grosser und angesehener Künstlerinnen ins Leben. Mehr als zehn Jahre später erzählen sie aus ihrer gelebten Praxis mit dem Manifest. Sie und andere portraitierte Künstlerinnen verhandeln den Umgang mit dem Mainstream und die Nebenwege, ökonomische Bedingungen, Macht, Kollektivbildung und die Synkope. Die Gespräche über das Manifest bilden dabei das Gerüst, die entstehende Musik und die Bilder der bei der Arbeit Portraitierten in Ateliers und Proberäumen, auf Bühnen und in Gärten tragen den Geist des Films. Mitwirkende: u.a. Les Reines Prochaines, Ulrike Haage, Andrea Saemann, Brigitte Schlögel, Chris Regn, Sophia Schama, Monika Dillier, Beate Spalthof, Walli Höfinger, Martine Ledieu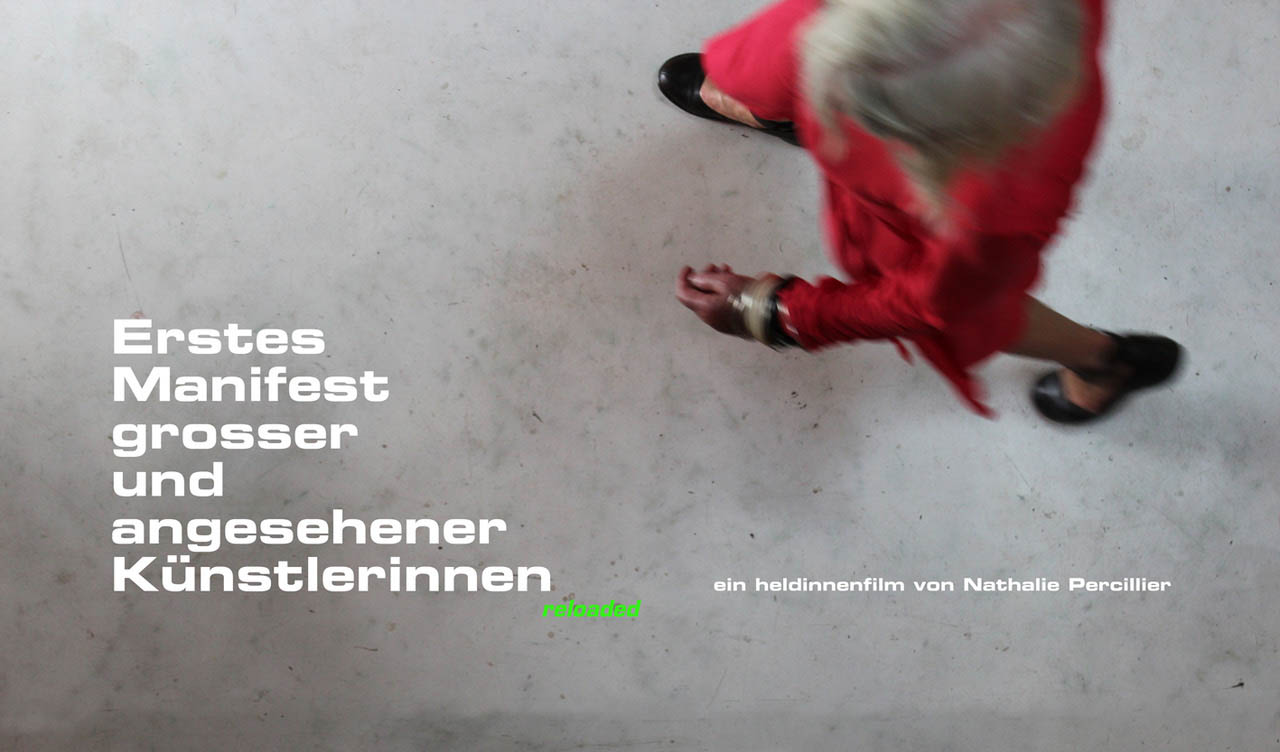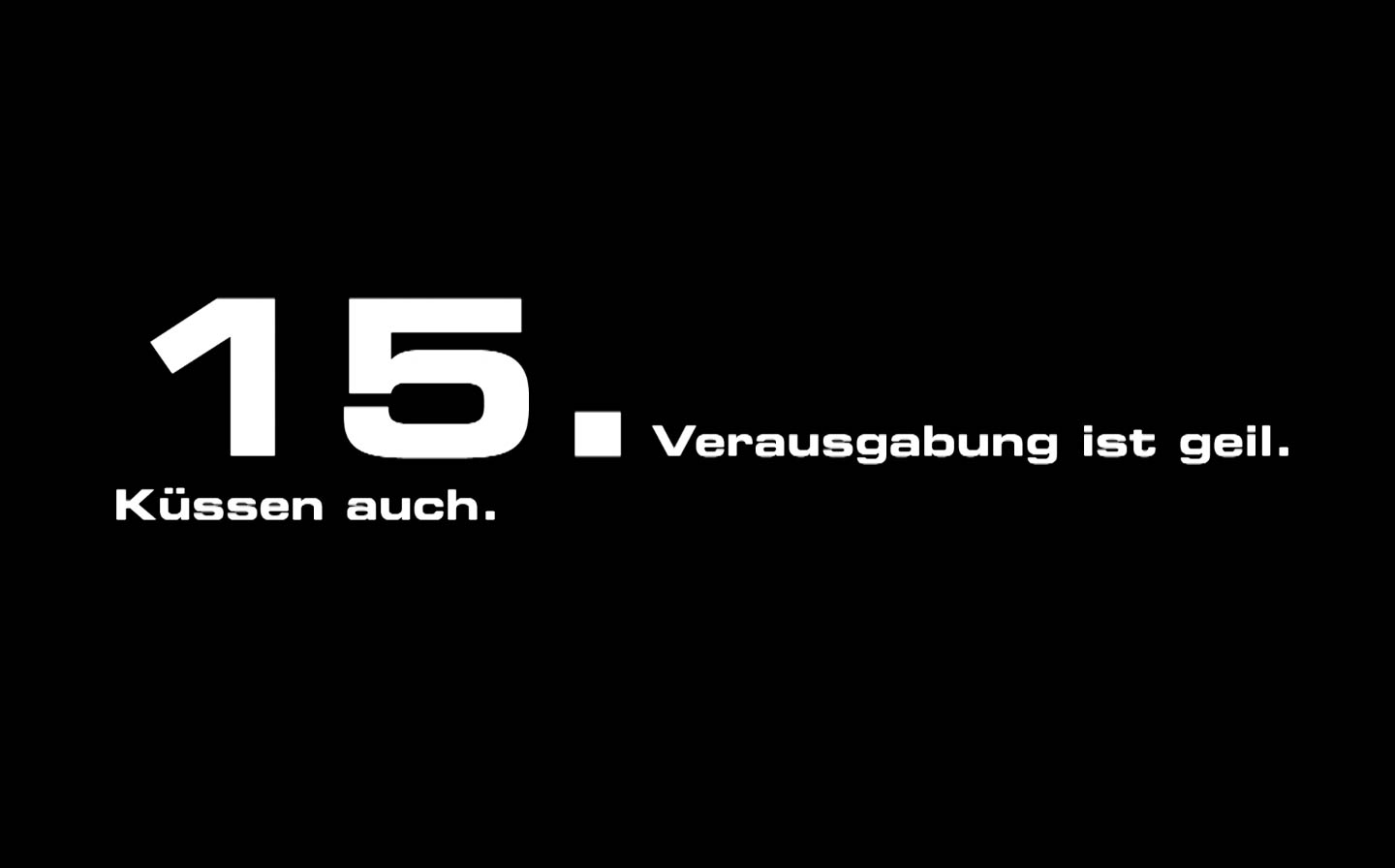 +
"Hello! My name is B_ _ o_ _ _ _ _ _ d _ y_ _ and I am here to abduct the f_ _ _ ut_ _u_ _ _ _ _ _re_ _ _" von Vassiliea Stylianidou aka Franck-Lee Alli-Tis
Deutschland, 2017, 46 Minuten, Deutsch, Englisch, Griechisch
Die mehrkanalige Soundinstallation mit einer Textanimation auf Monitor ist eine halb fiktive, halb reale Diskussion zwischen fünf Personen und einer Erzähler*in. Ausgehend von den Politiken des Sprechens über  trans/ inter/ non-binary und sich keinem Geschlecht zugehörig fühlenden Menschen stellt die Filmemacher*in Thesen rund um das komplexe Geflecht von Sprache, Körper, Zukunft und Genderkonstruktion auf. Das Projekt ist ein erster Versuch, eine neue Sprache zu entwickeln, die es Körpern ermöglicht, neue Identitäten zu formen oder Identitätskategorien ganz abzuschaffen.
Mitwirkende: Lorenz Erdmann, nanavongestern, Nana, Jamie Diker, Ria Klug, FOR AN ANONYMOUS FUGITIVE AUTHOR*, Frank Wismar, Lann Hornscheidt, Ria Klug, Tucké Royale, Jayrôme C. Robinet, Konstantine Matsoukas, SN. Special thanks to TRIQ, TransInterQueer e.V. Berlin, Joep Hegger. Commissioned by Onassis Cultural Center, Athens in the occasion of the exhibition "Tomorrows. Urban Fictions for Possible Futures". Curated by Daphne Dragona and Panos Dragonas.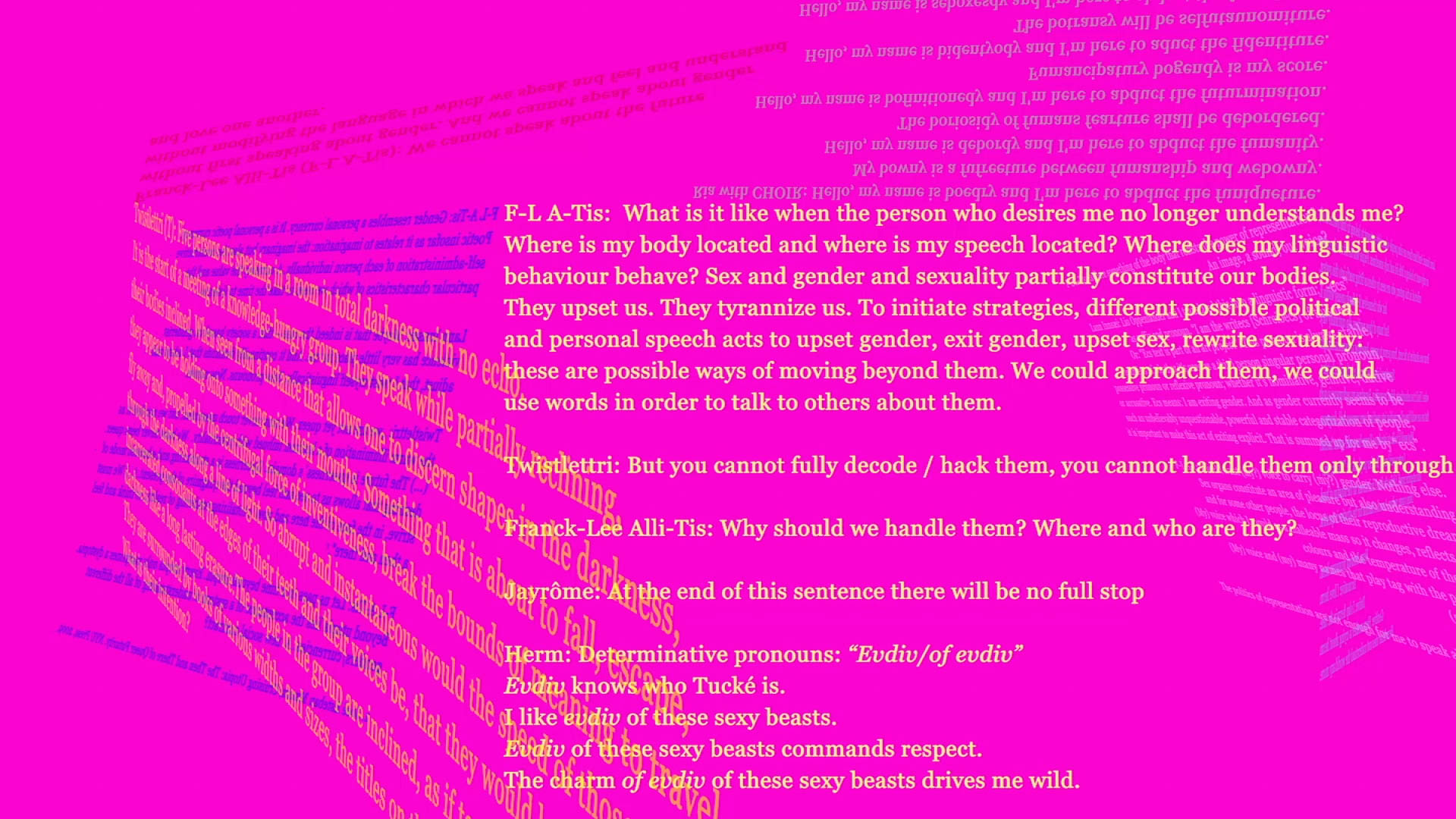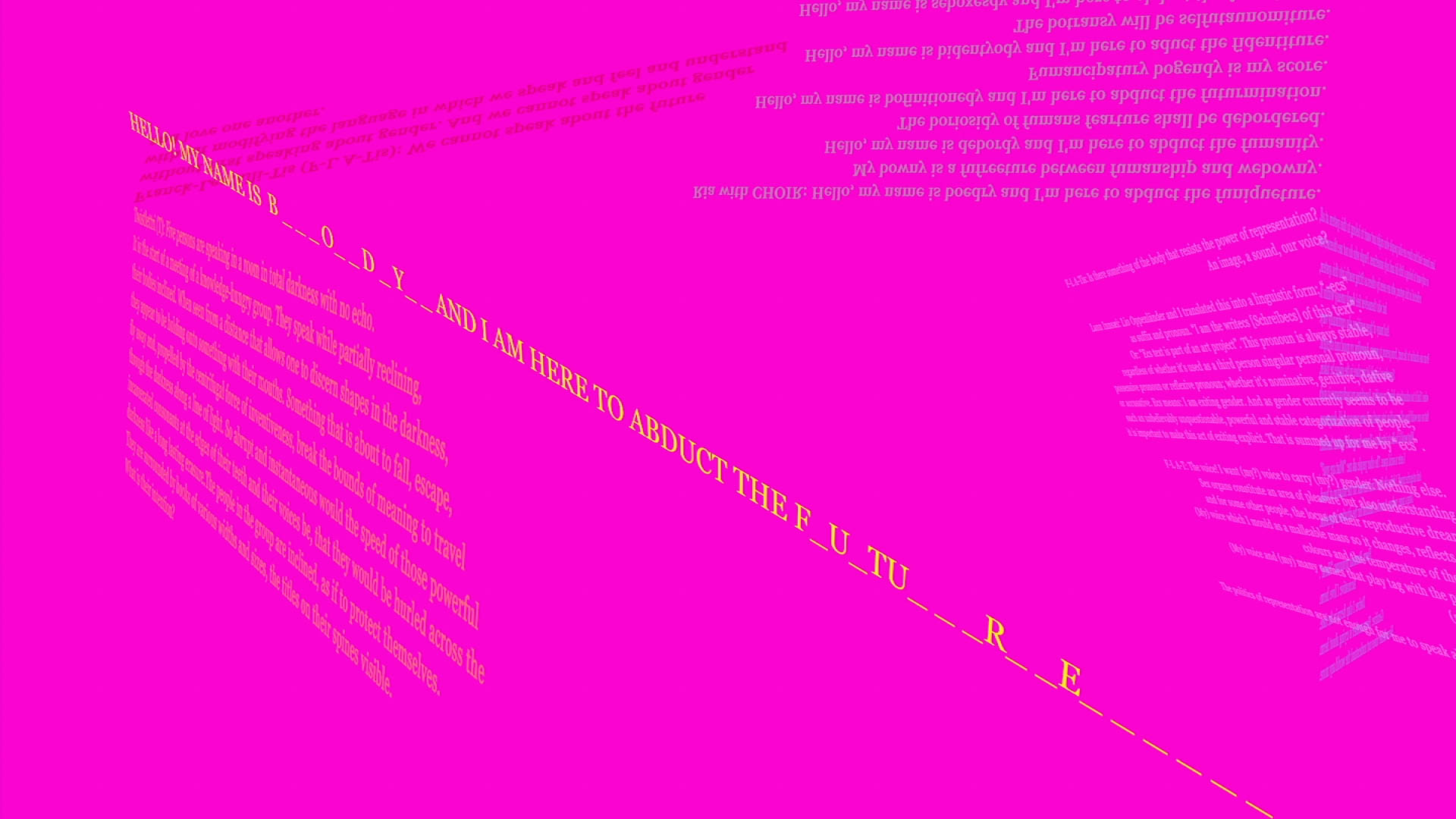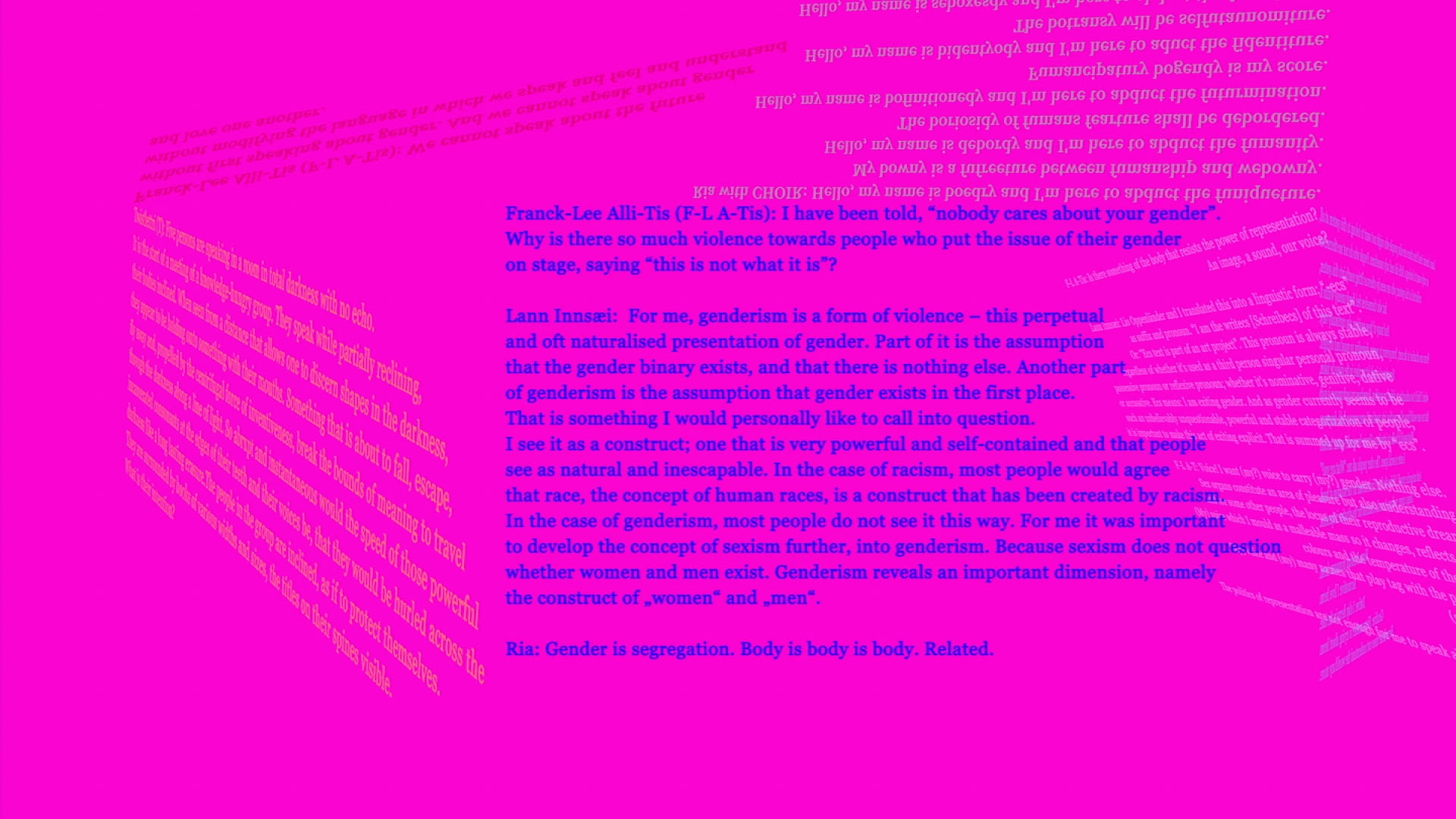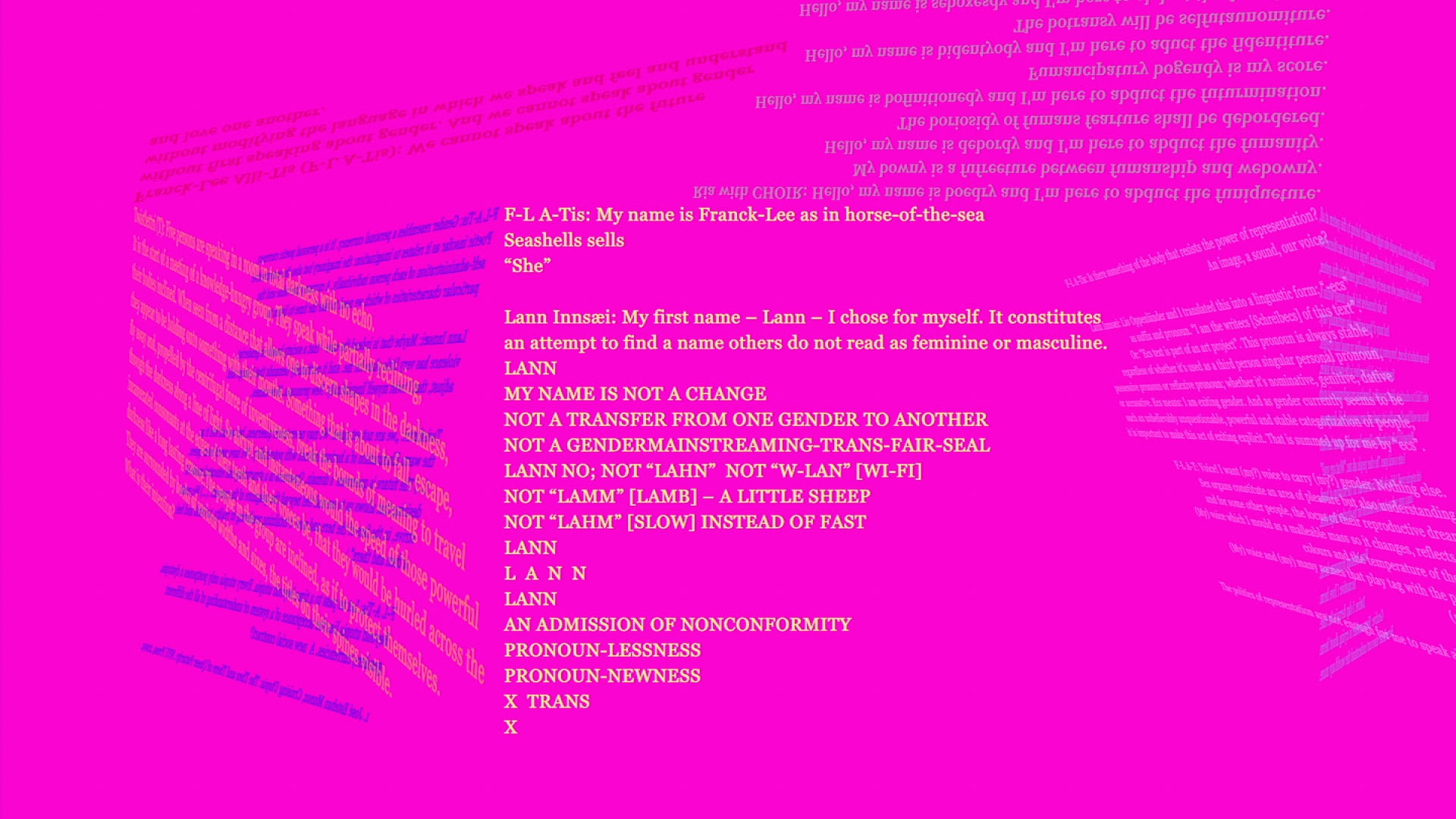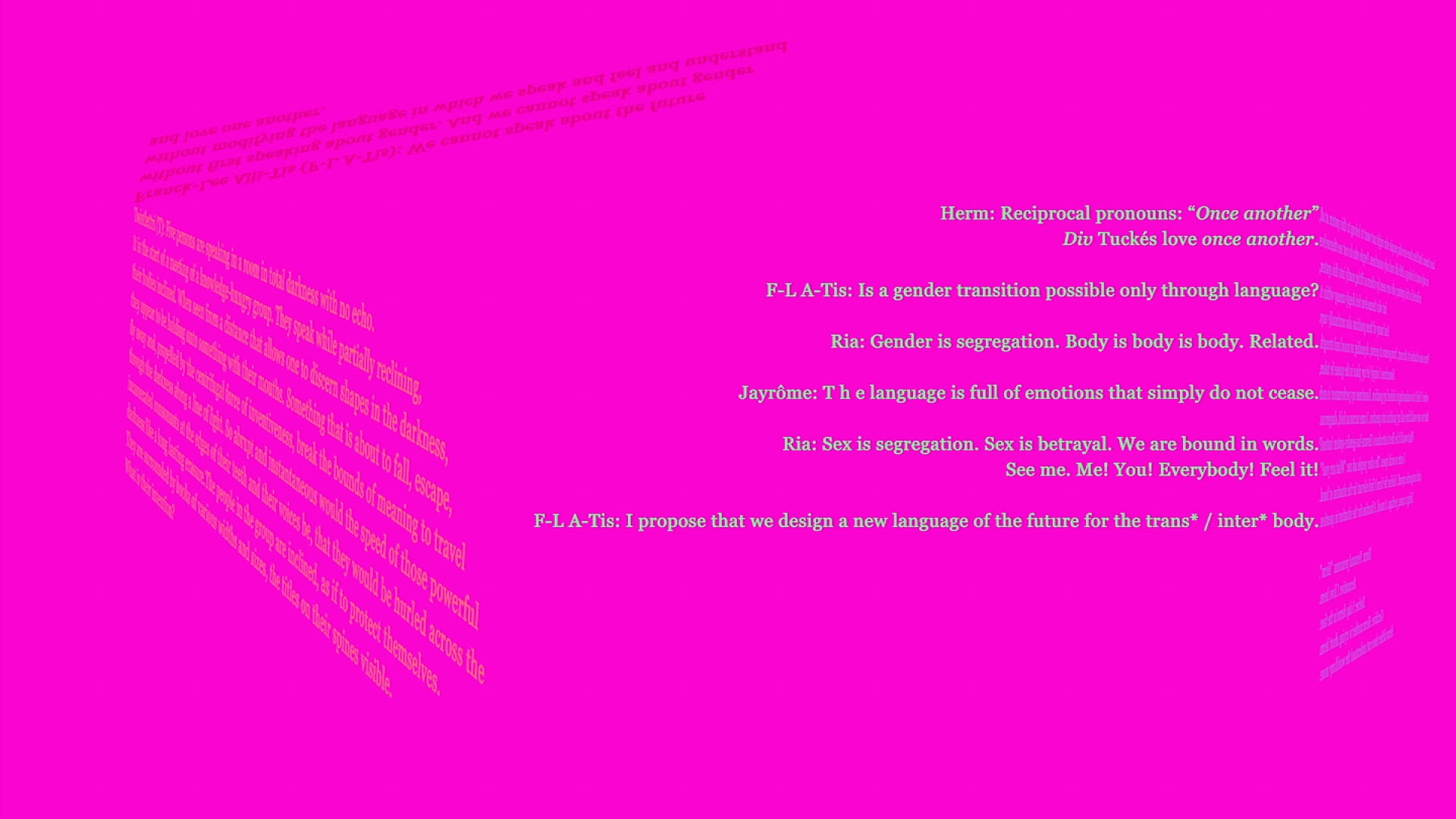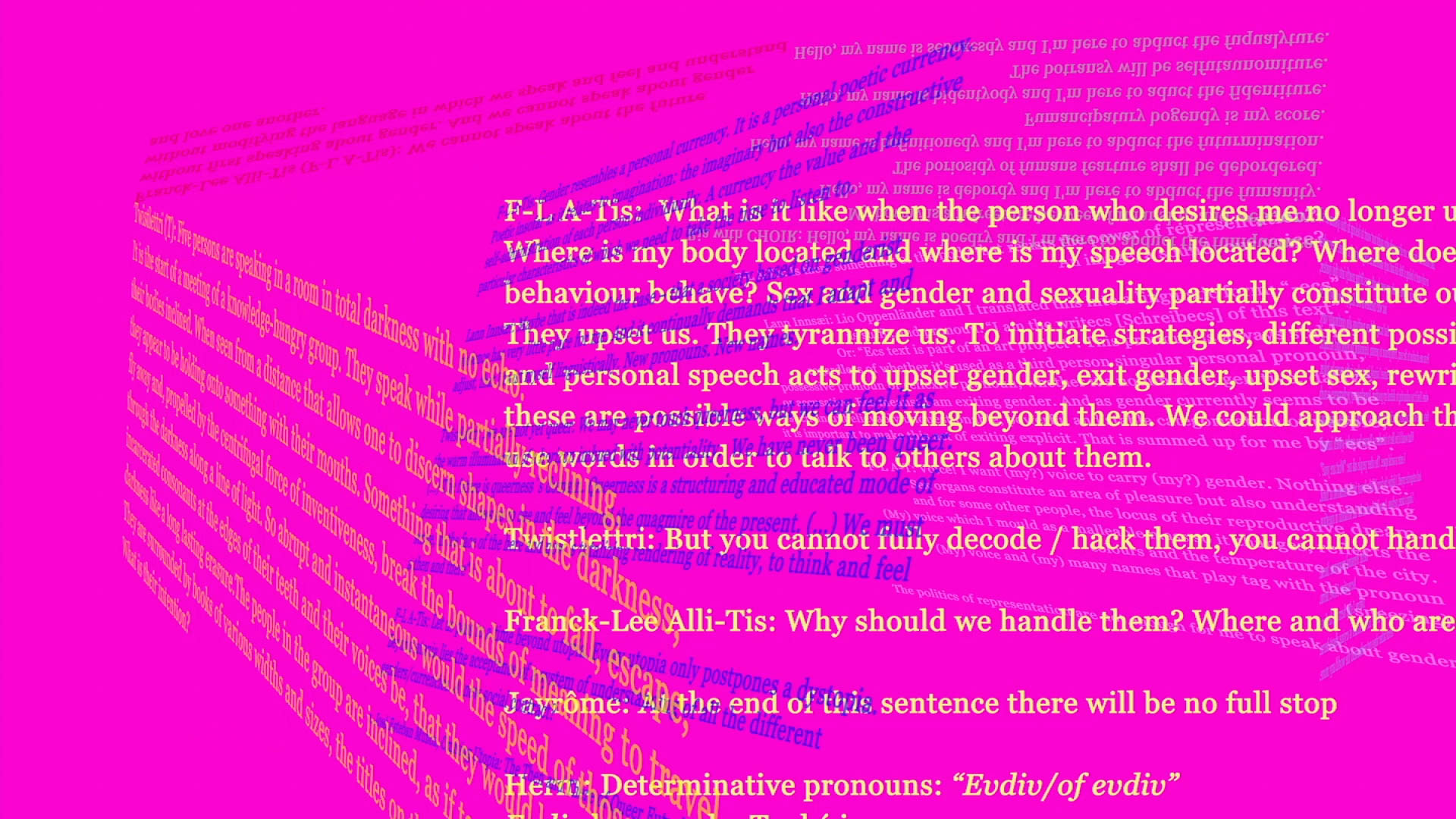 +
Das Loch von Julia v. Randow
Deutschland, 1993, 19 Minuten, Deutsch

Whole, das ganze Loch, gilt als hoffnungsvolles Denkmodell für die 90er Jahre, es stellt die Geschlechterfrage anhand einer eigenen Theorie neu: das Geschlecht der Oberfläche eines Körpers steht im Verhältnis zu der Anzahl seiner Löcher. Die Zweigeschlechtlichkeit wird ins Unendliche aufgelöst. Vermutungen über den existenziellen Zustand des Lochs und sein physikalisches Verhalten münden in metaphysische Schlußfolgerungen. Die Arbeit des Konfettimeisters, die Hohlwelttheorie, die Autoperforation und das Lochmodell Schlupf veranschaulichen den dynamischen Übergang von passivem zu aktivem Zustand des Lochs. Kamera: Lisa von Treskow. U.a. mit Heiner Müller.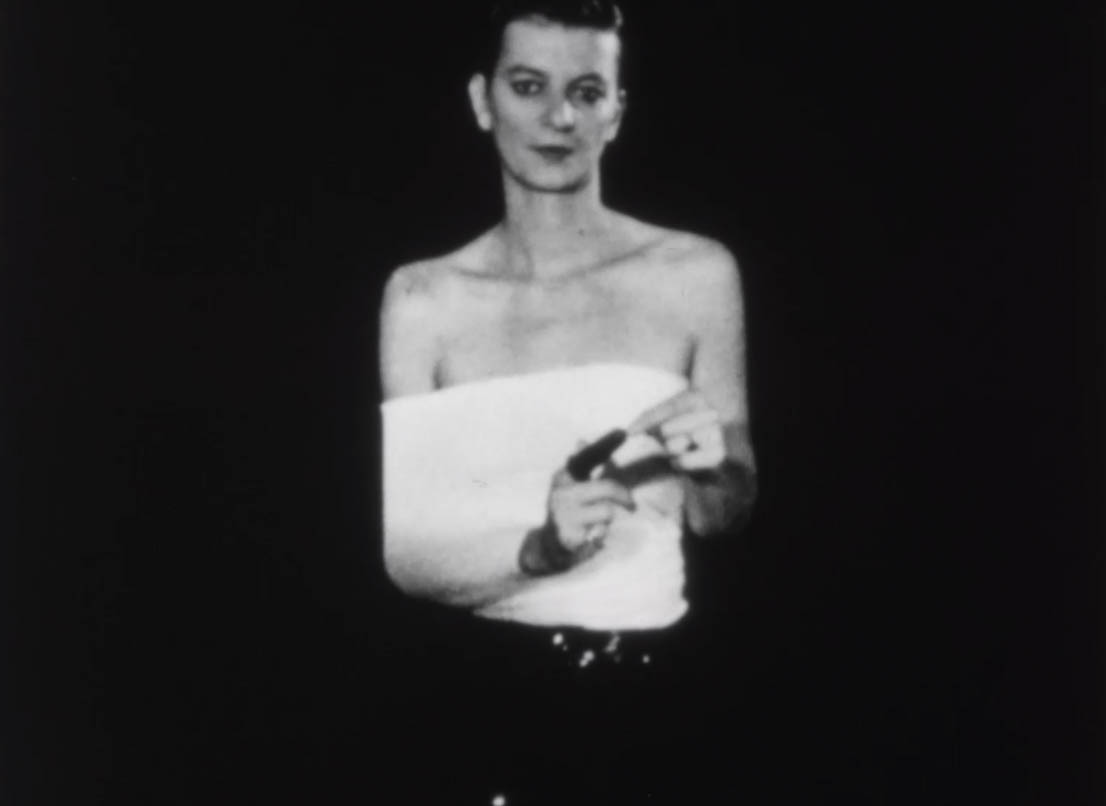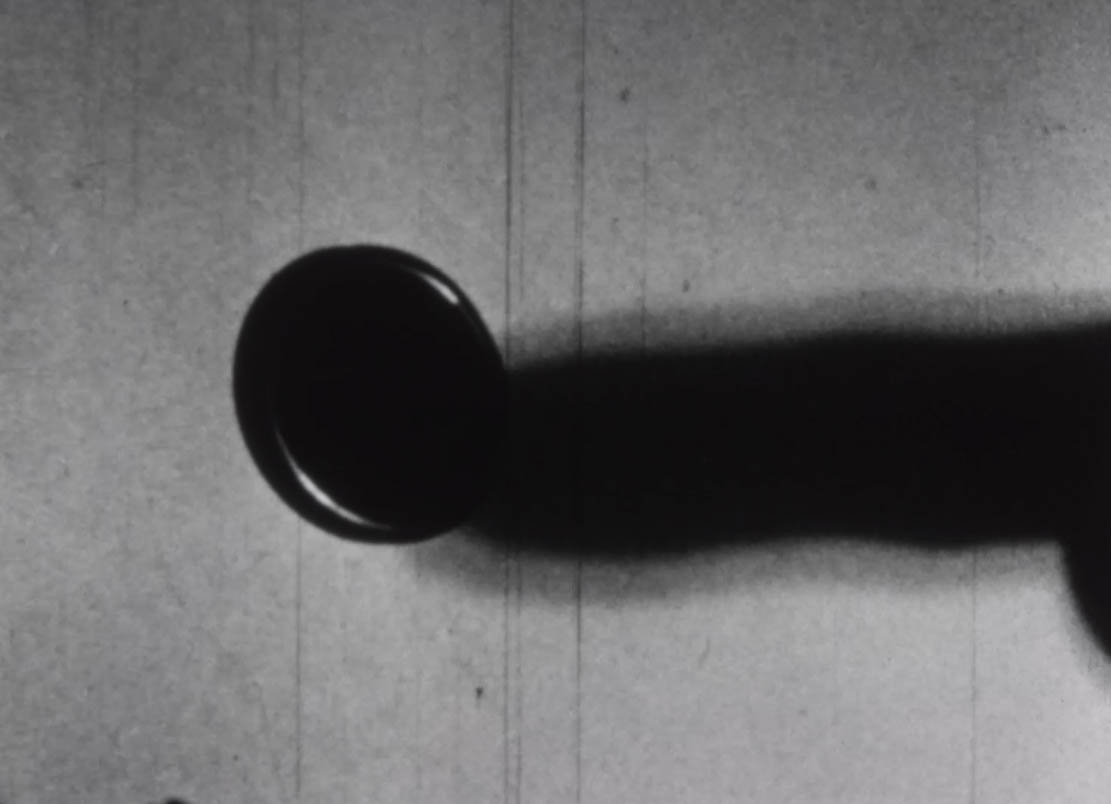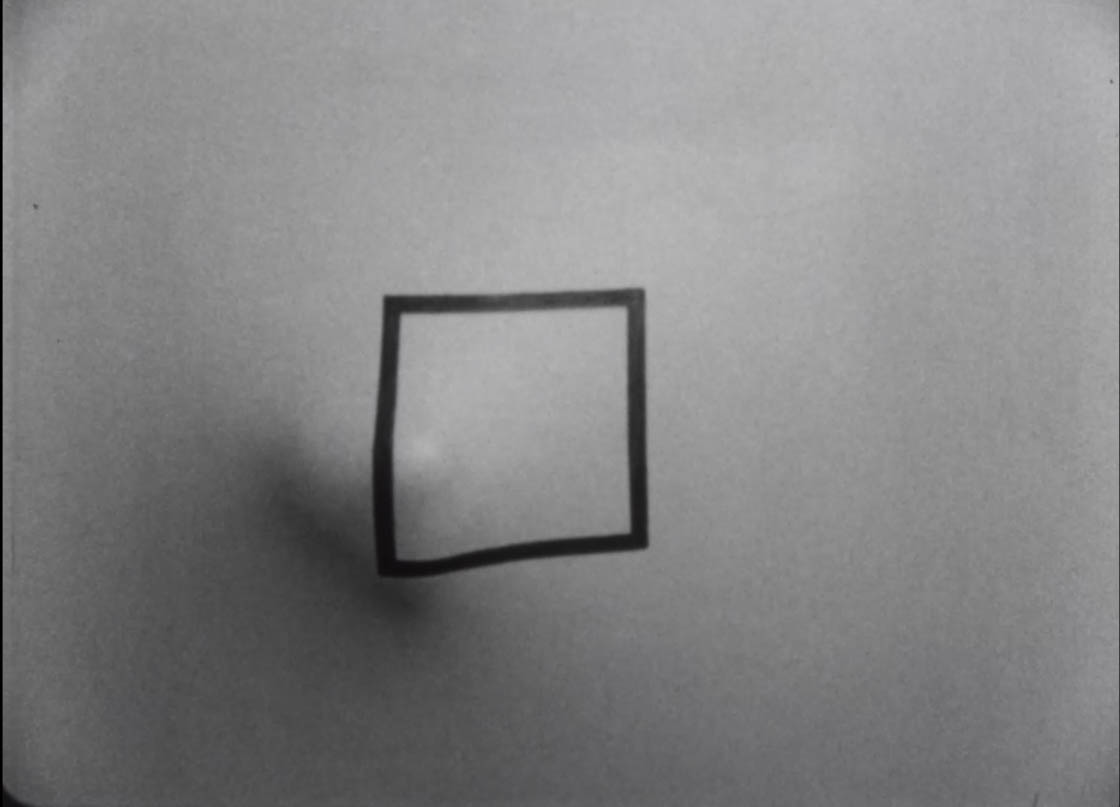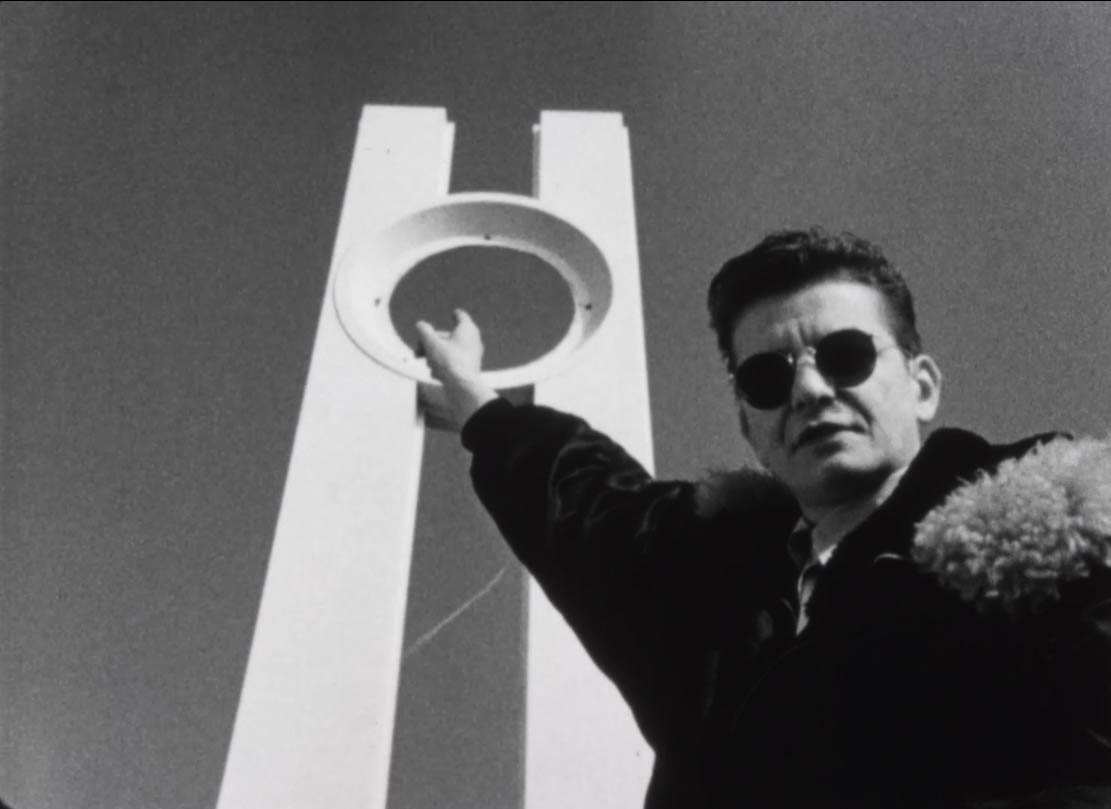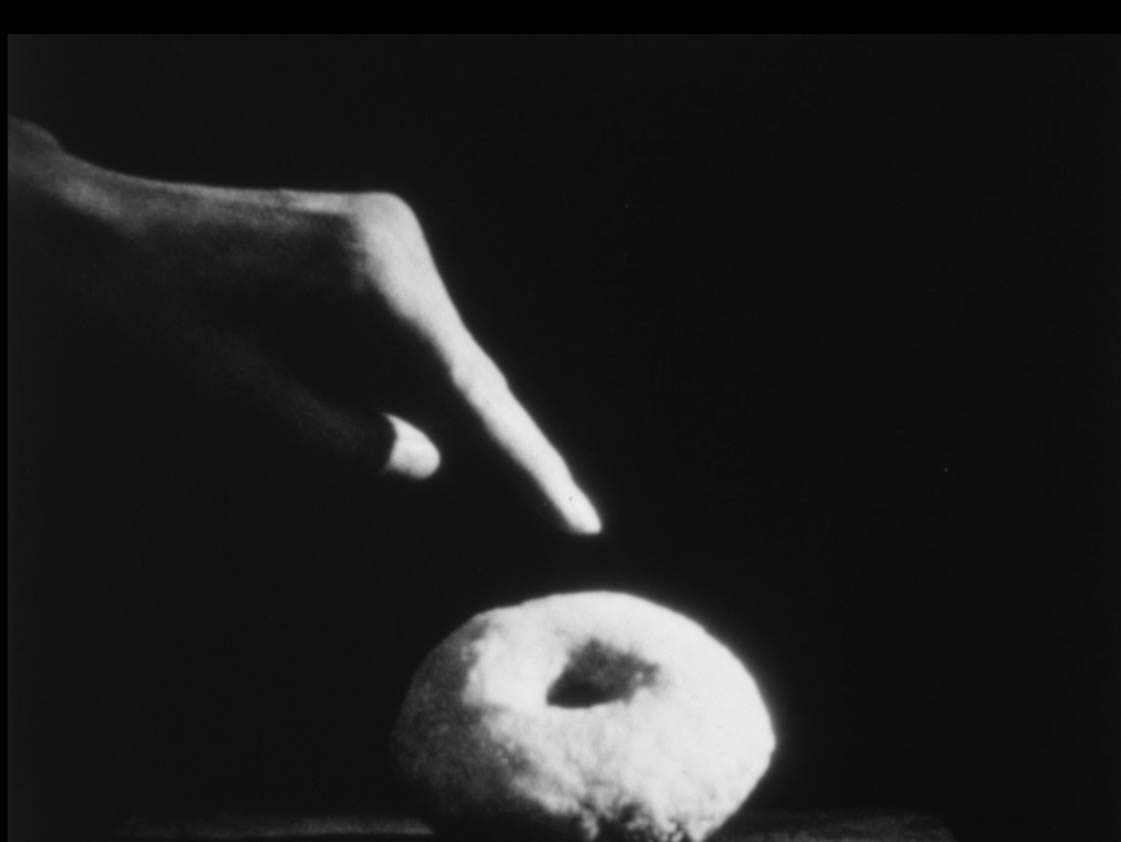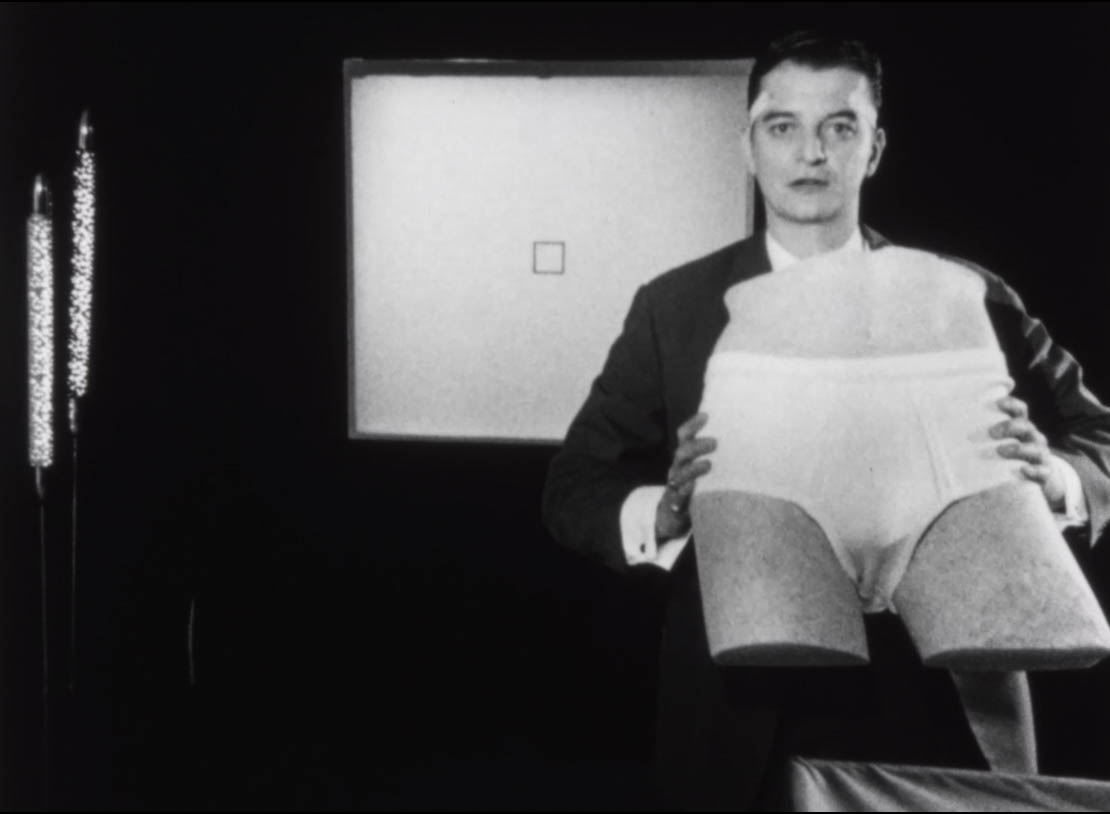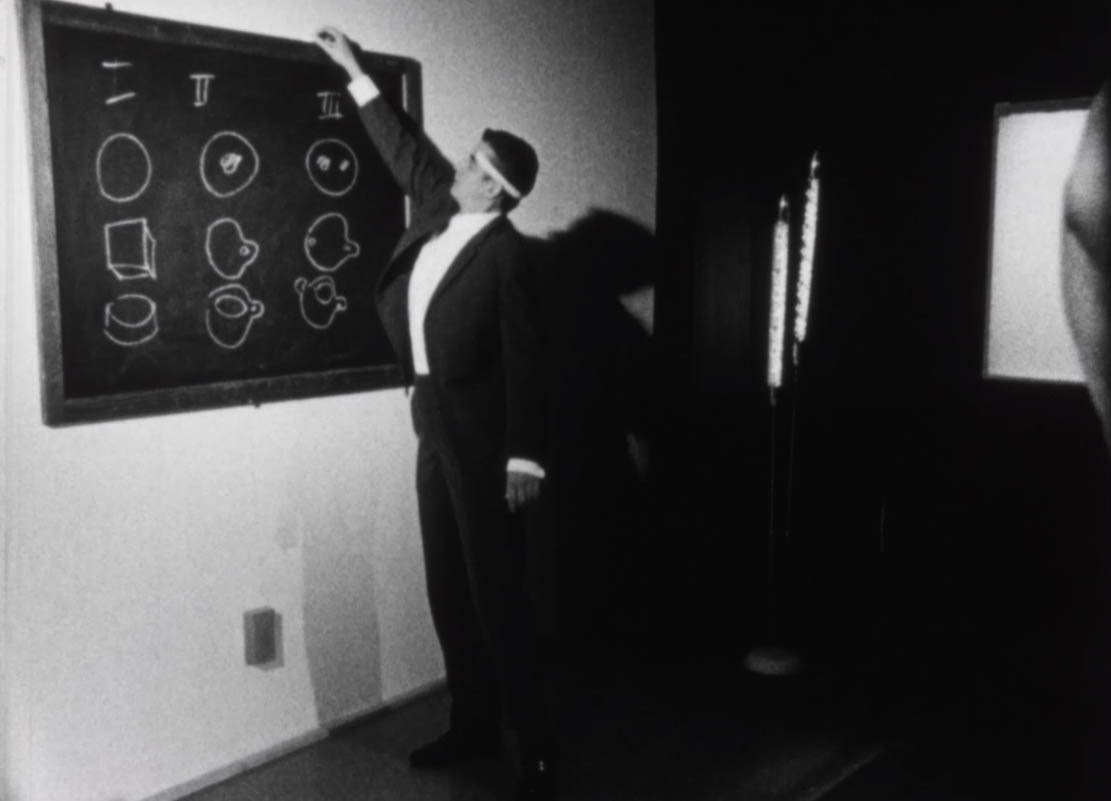 +
Bolita Berlinesa – La Vuelta de la malona von Verena Melgarejo Weinandt
Argentinien, 2014, 3 Minuten, Spanisch
Verena Melgarejo Weinandt alias Bolita Berlinesa nutzt für ihren Kampf der Lucha Libre das Museo Nacional de Bellas Artes Buenos Aires. In diesem Museum nationaler argentinischer Kunst werden fast ausschließlich europäische Gemälde ausgestellt. Das einzige Bild, dass auf die indigene Bevölkerung des Landes hinweist ist das Gemälde La vuelta del malón aus dem Jahr 1892, dass den Genozid an den indigenen Menschen im Süden Argentinies durch den General Julio Roca um 1880 rechtfertigt. Durch den symbolischen Kampf gegen dieses Bild als Bolita Berlinesa werden koloniale Kontinuitäten aufgezeigt, koloniale Darstellungen und Projektionen auf indigene Menschen verhandelt, ein nationales Narrativ angegriffen und in Beziehung zur Situation bolivianischen Migrant*innen in Argentinien gesetzt und der Rahmen insititutioneller Kunstpräsentation verhandelt.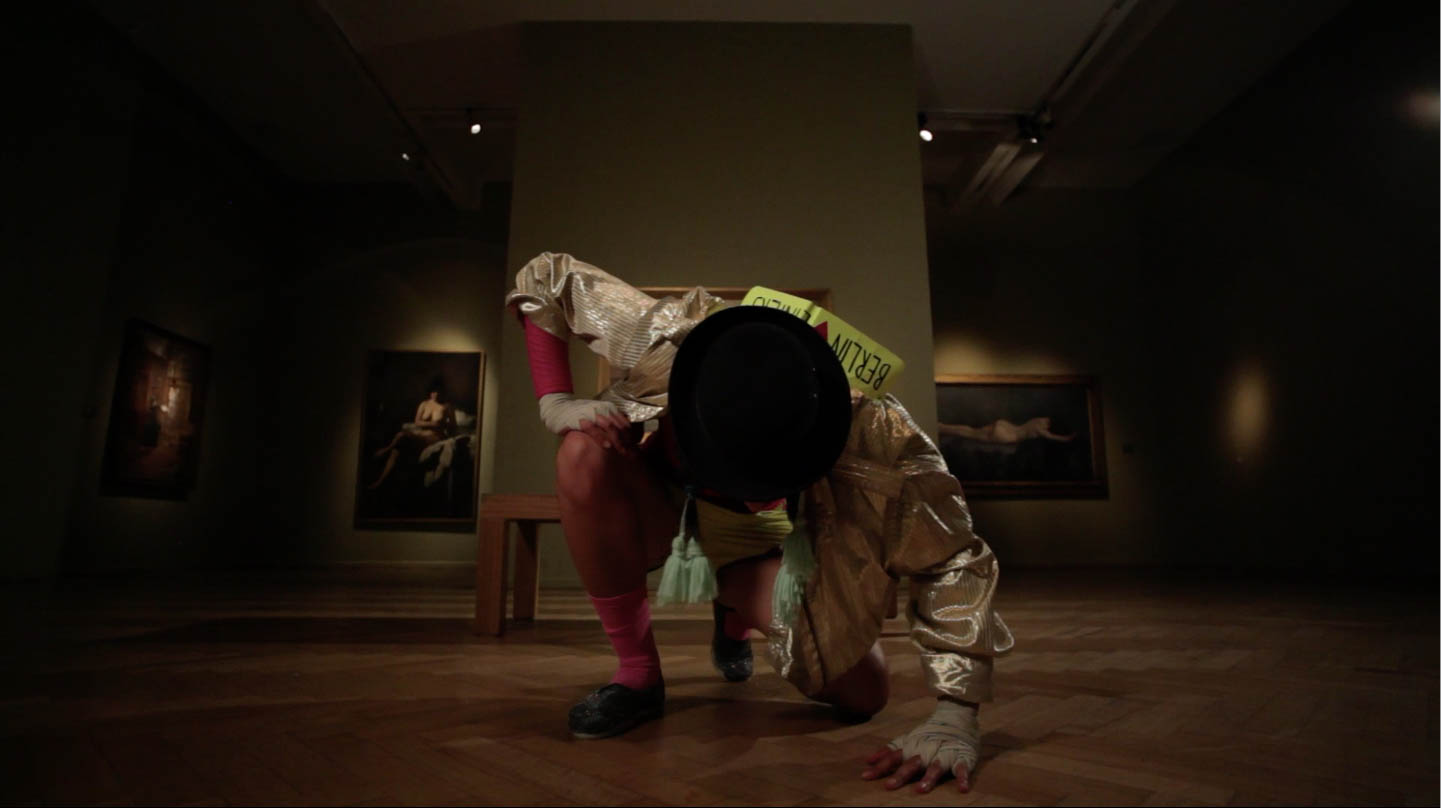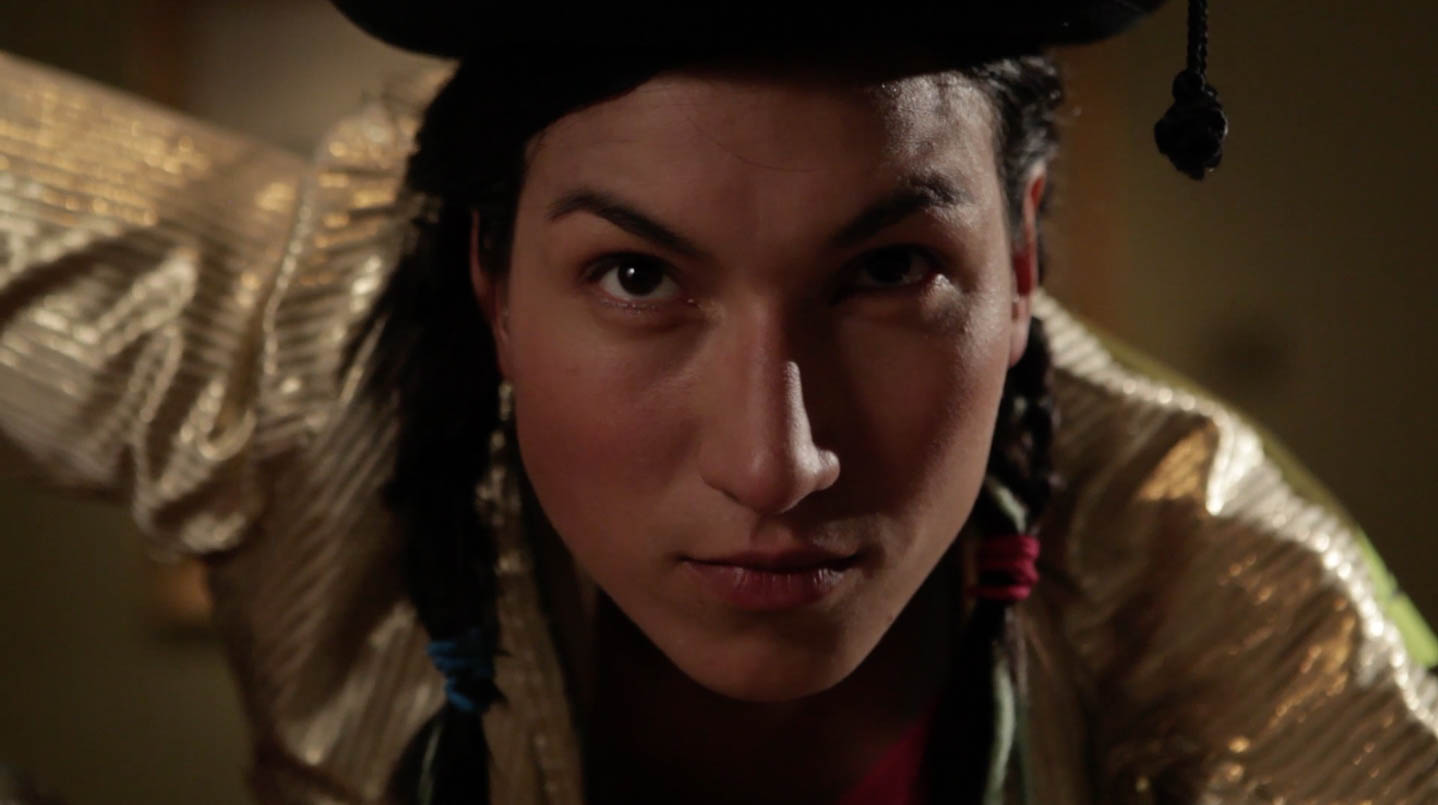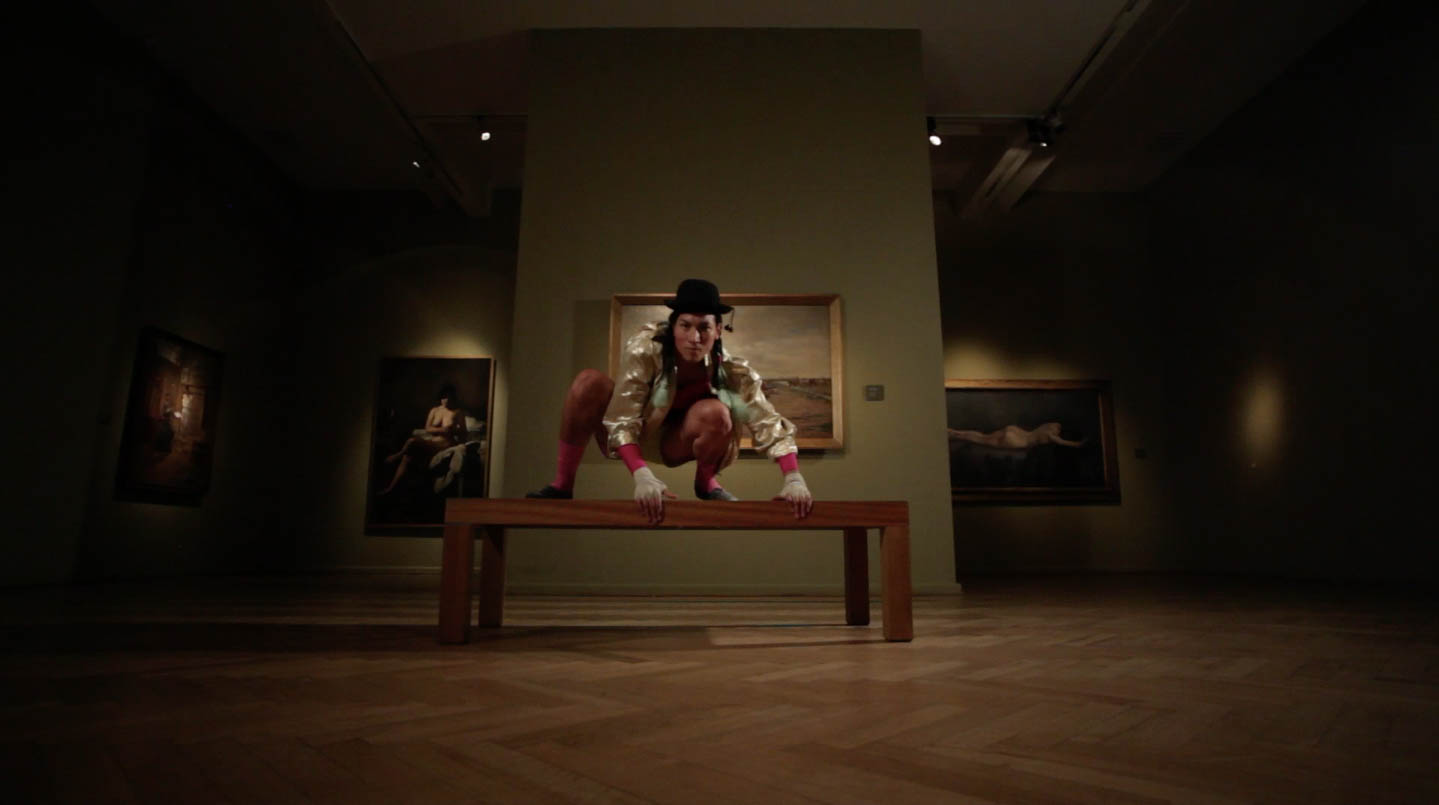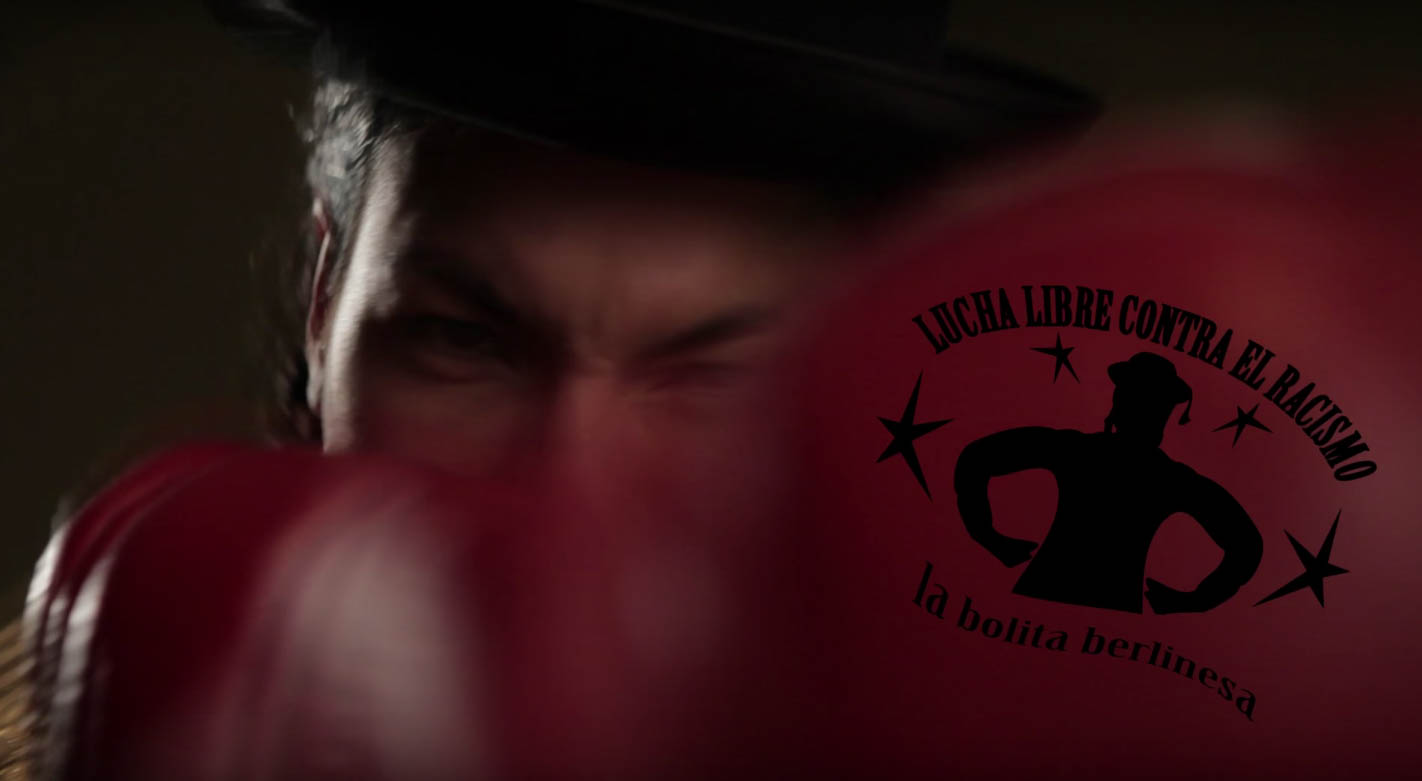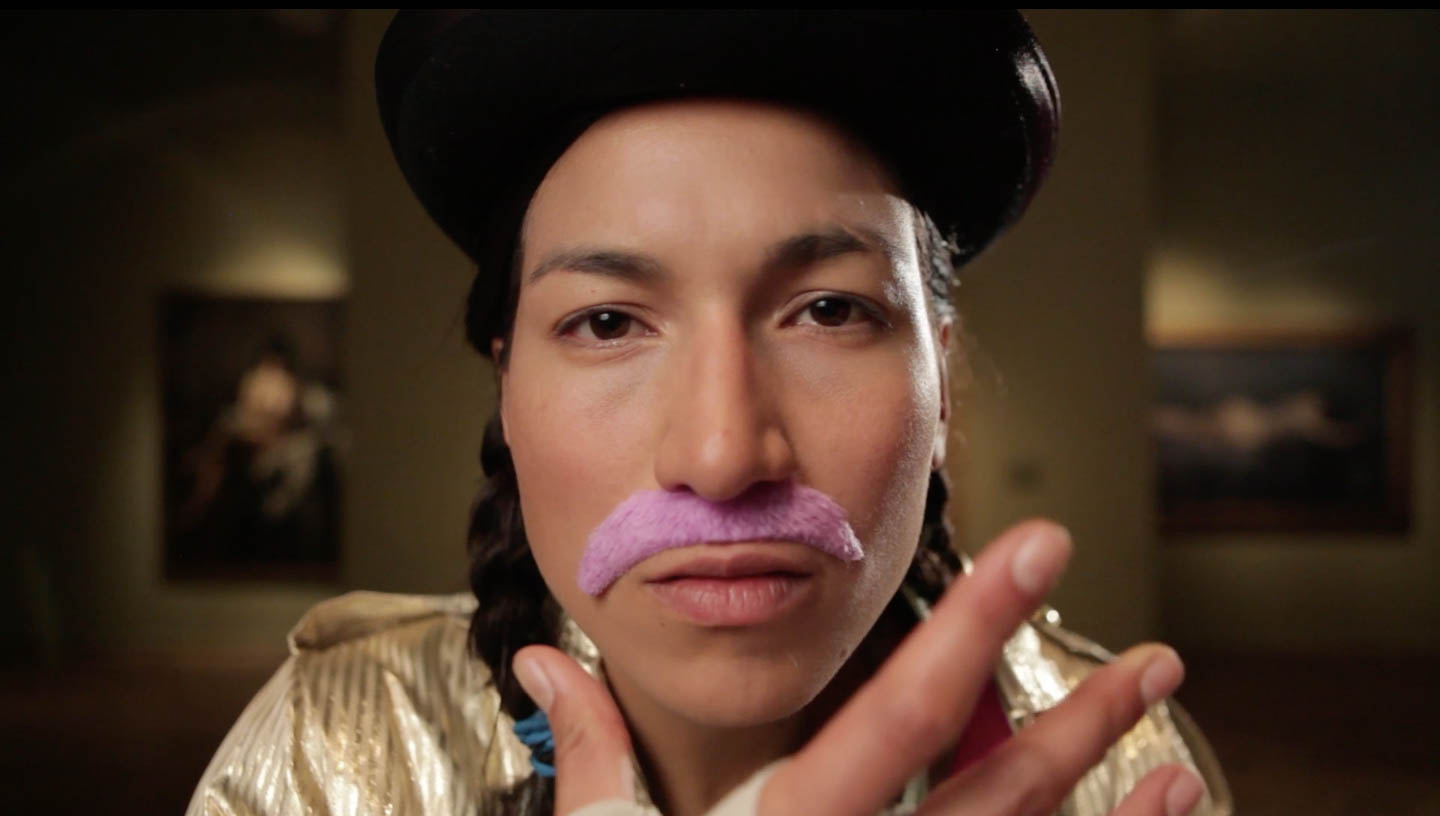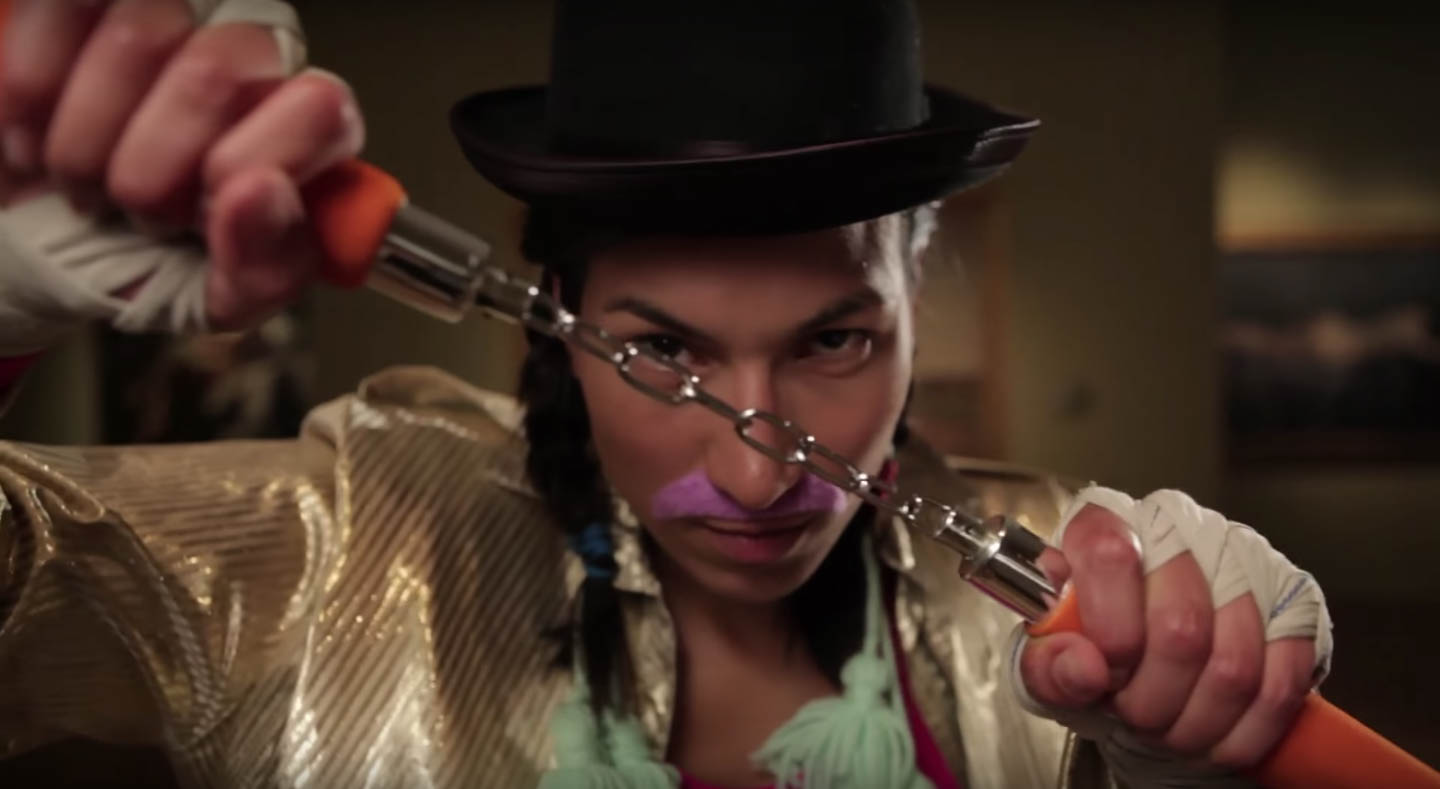 +
Impossible Bodies von Lani Rodriguez
USA, 2014, 13 Minuten, Englisch
Der Choreograph niv Acosta spricht über sein aktuelles Tanzstück und die Körperlichkeit von Ethnizität und Gender im öffentlichen Raum. Er problematisiert die Botschaften, die wir außerhalb unserer eigenen Sicherheitszonen über unsere Körper erhalten, das Fehlen von Vokabular für seine Identitäten und den Hype und die die Tokenisierung in der Kunstwelt von LGBTQIA+ Black und of Color Künstler*innen.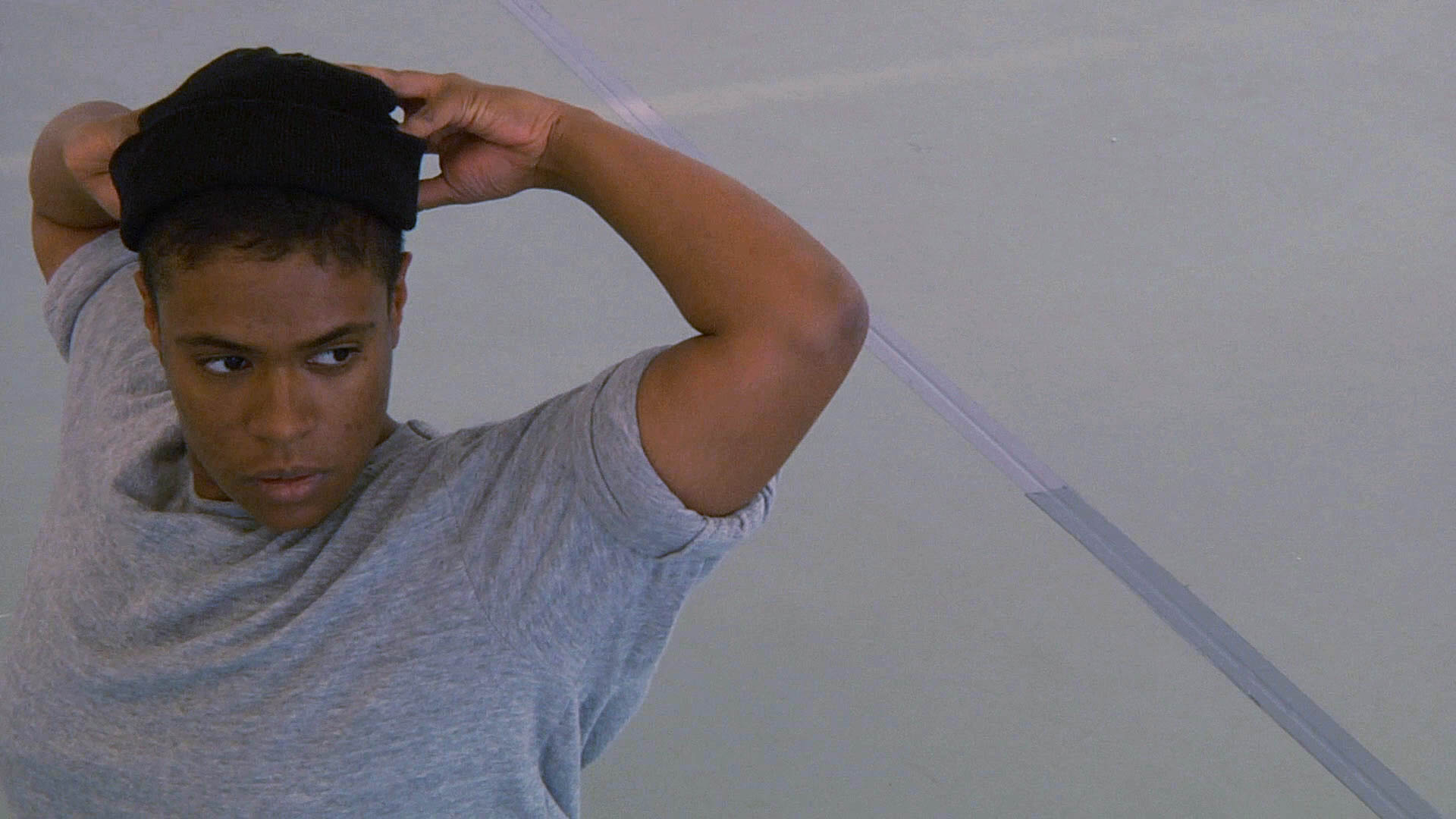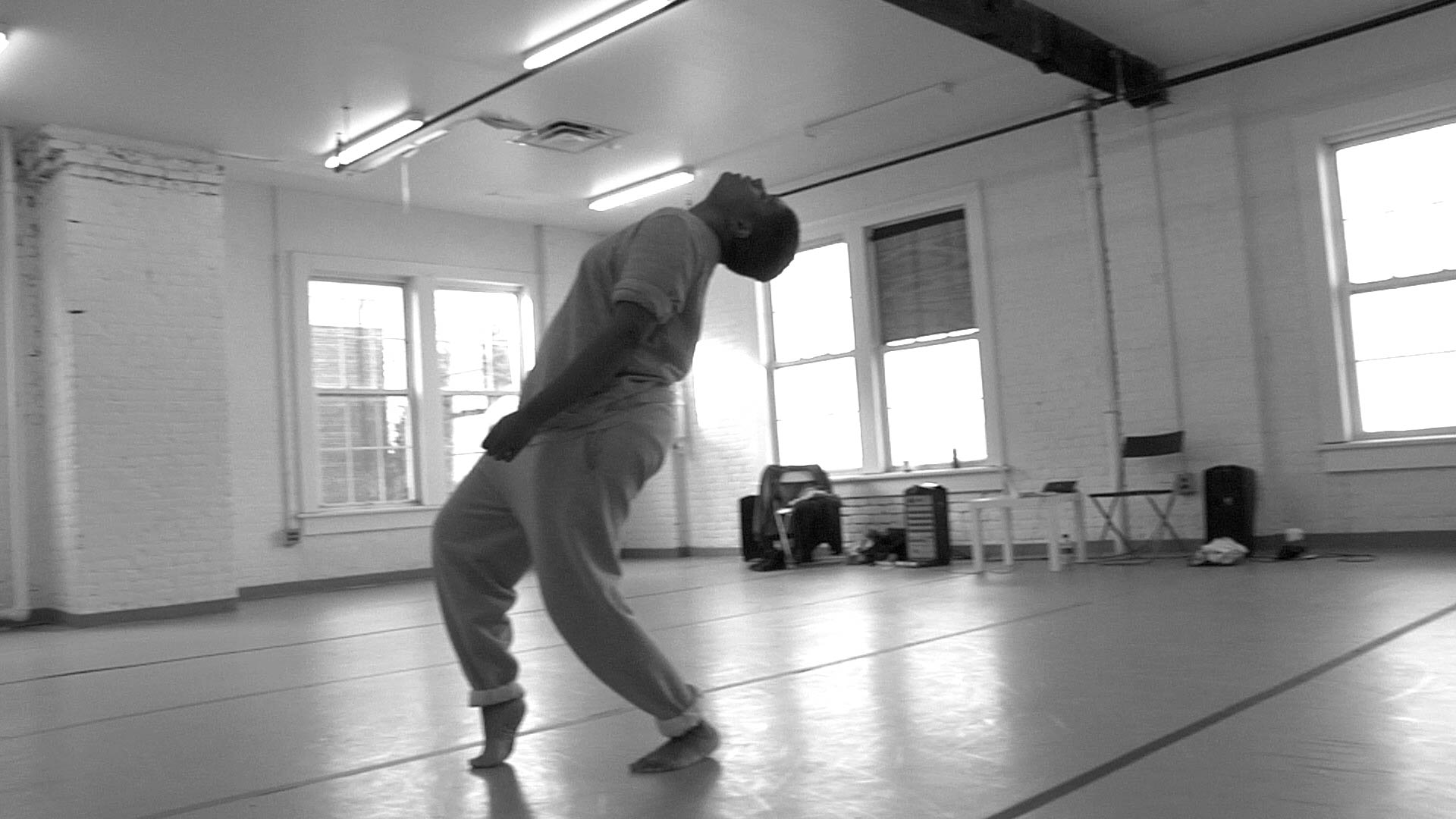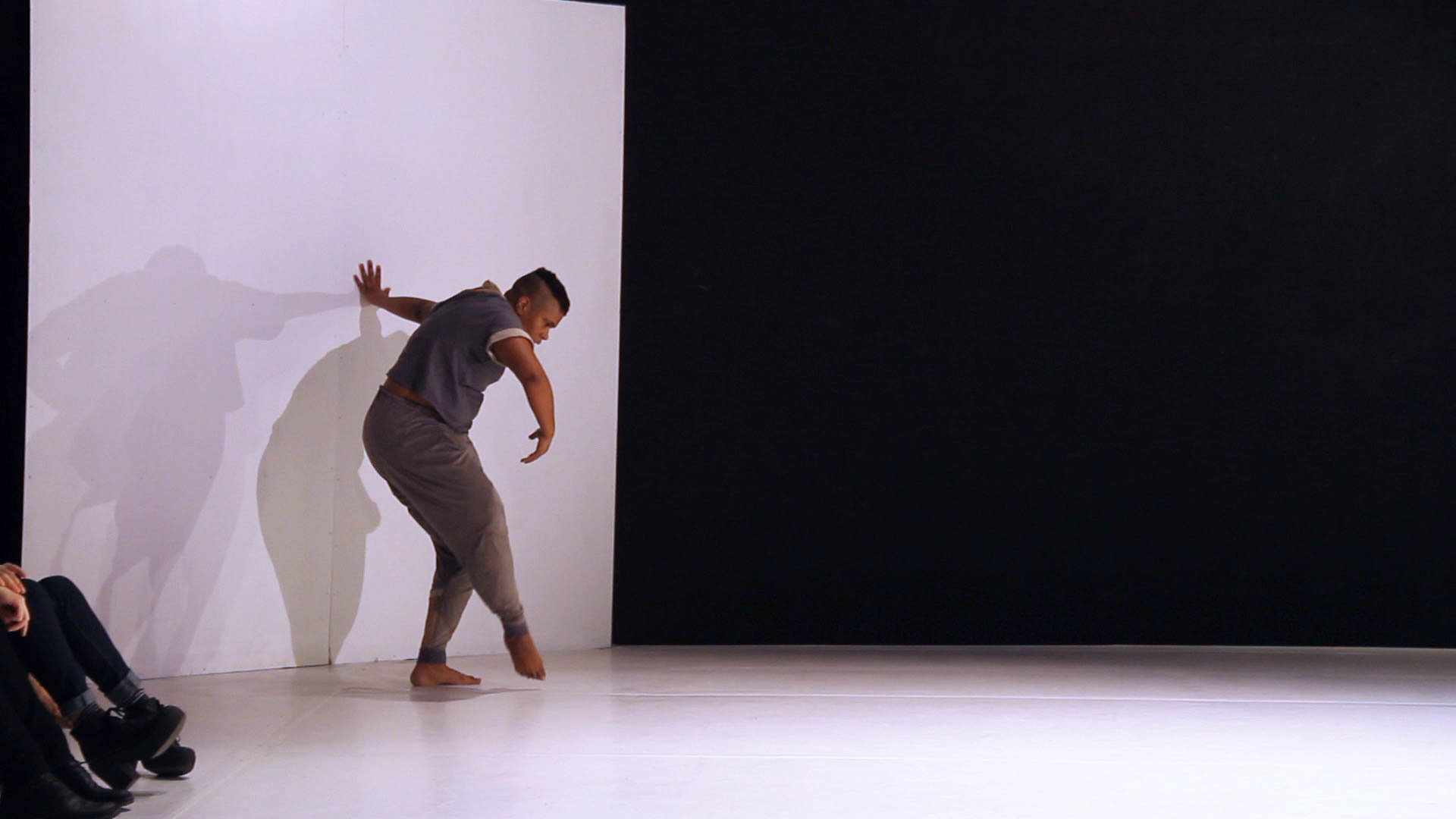 +
Our Vagina, Ourselves von Dajing
China, 2017, 5 Minuten, Mandarin mit englischen UT
Ein RAP-Musikvideo von Dajing und Evange für die Anerkennung nicht-binärer Geschlechtsidentitäten, für Frauen*rechte und sexuelle Selbstbestimmung.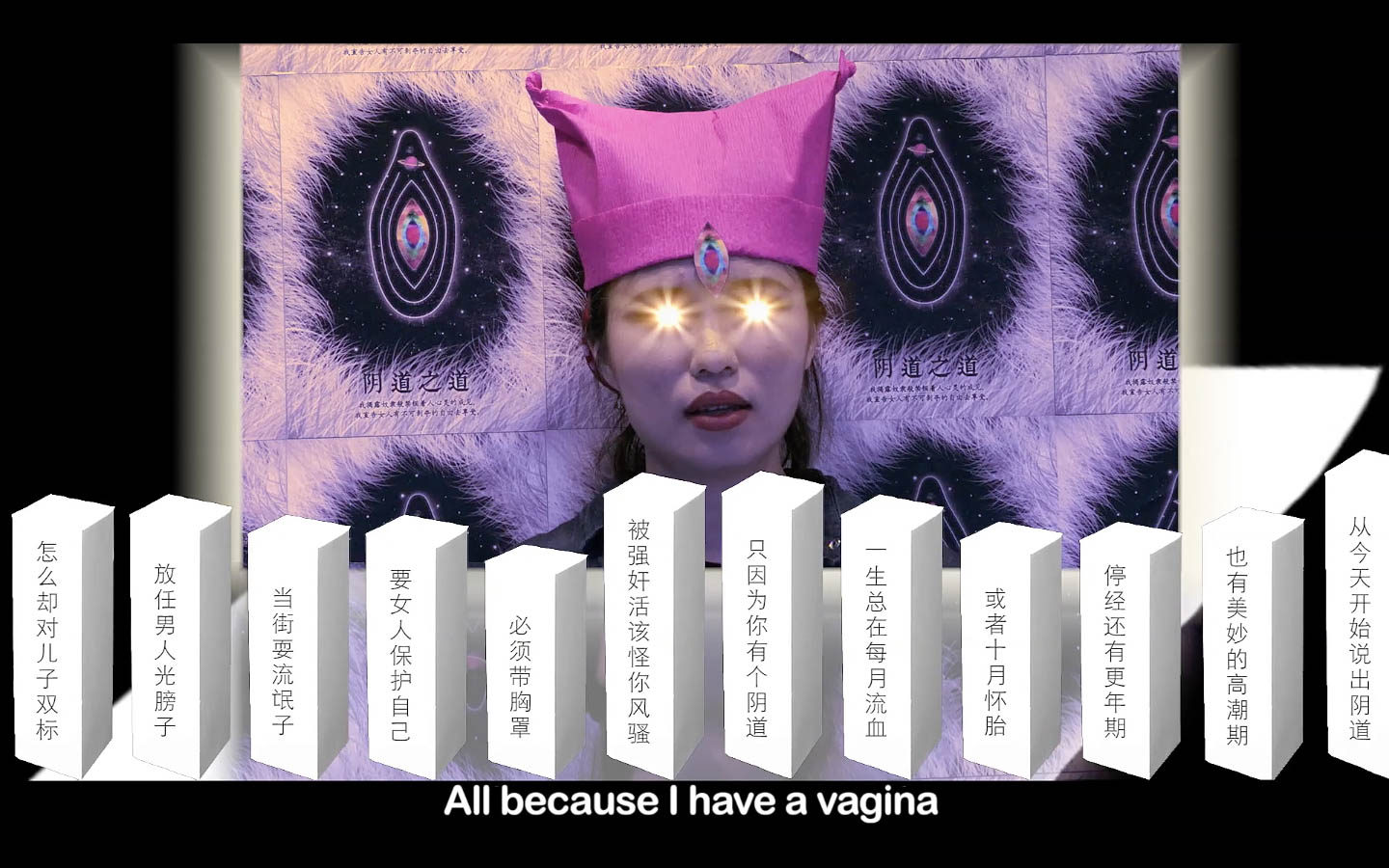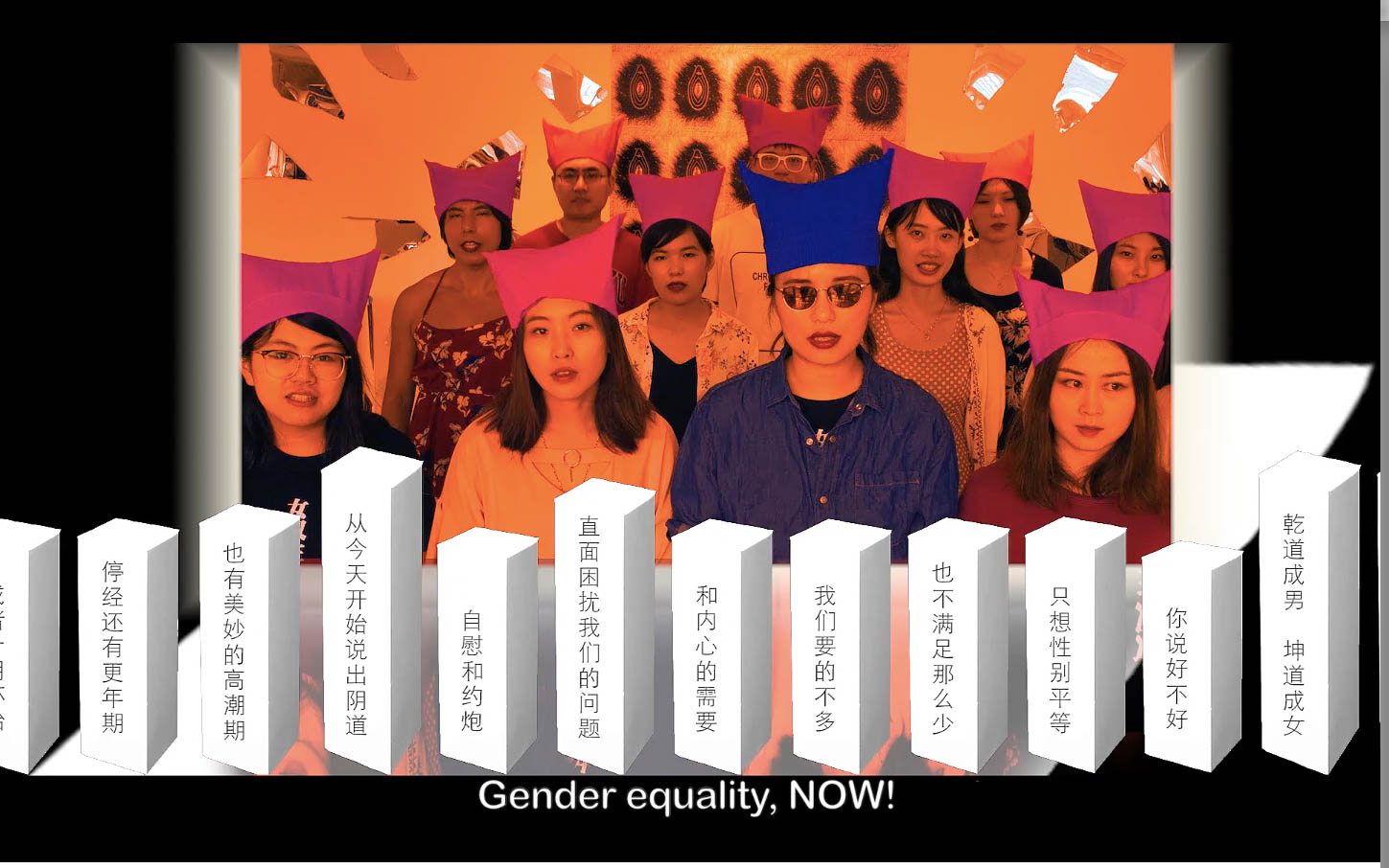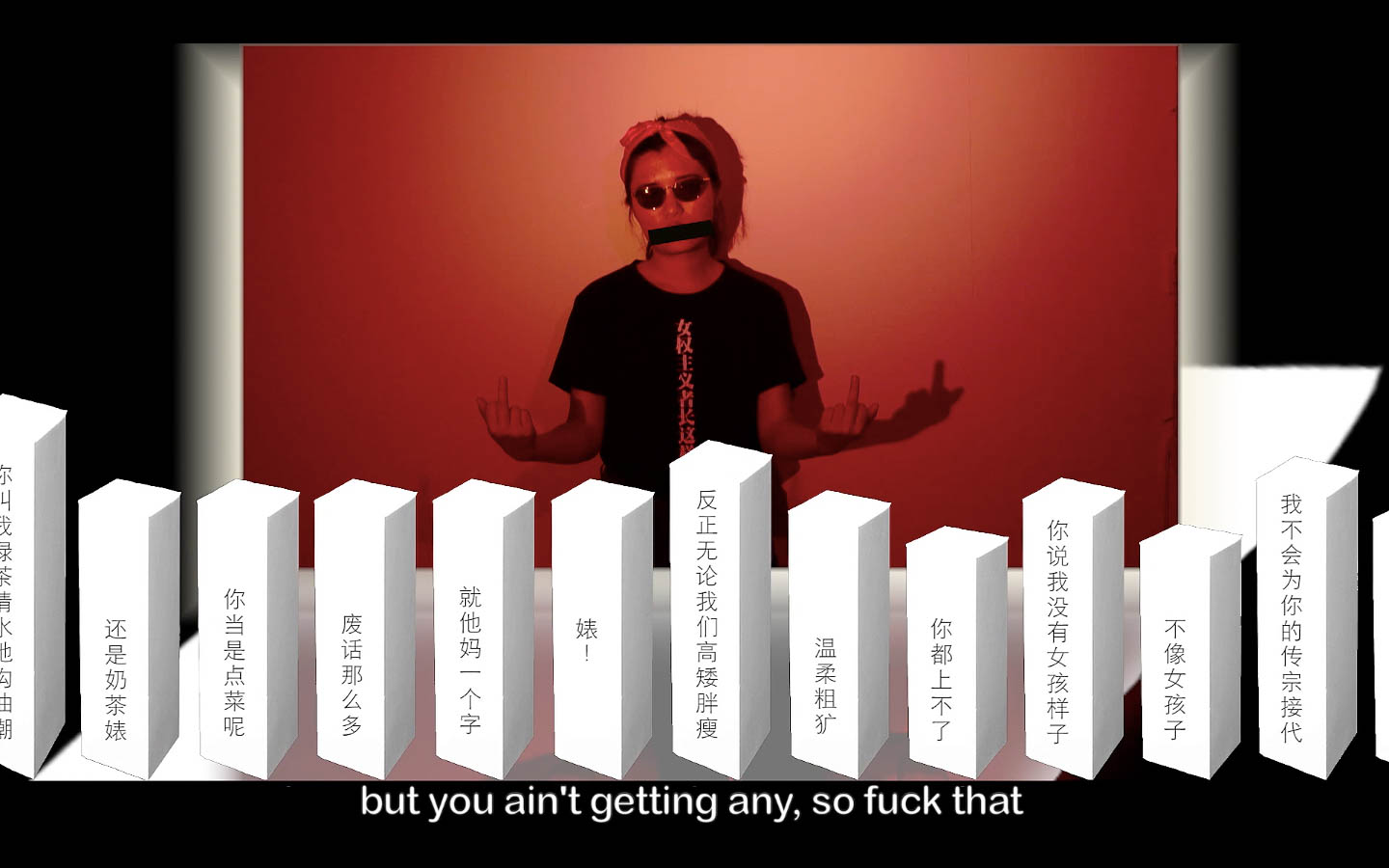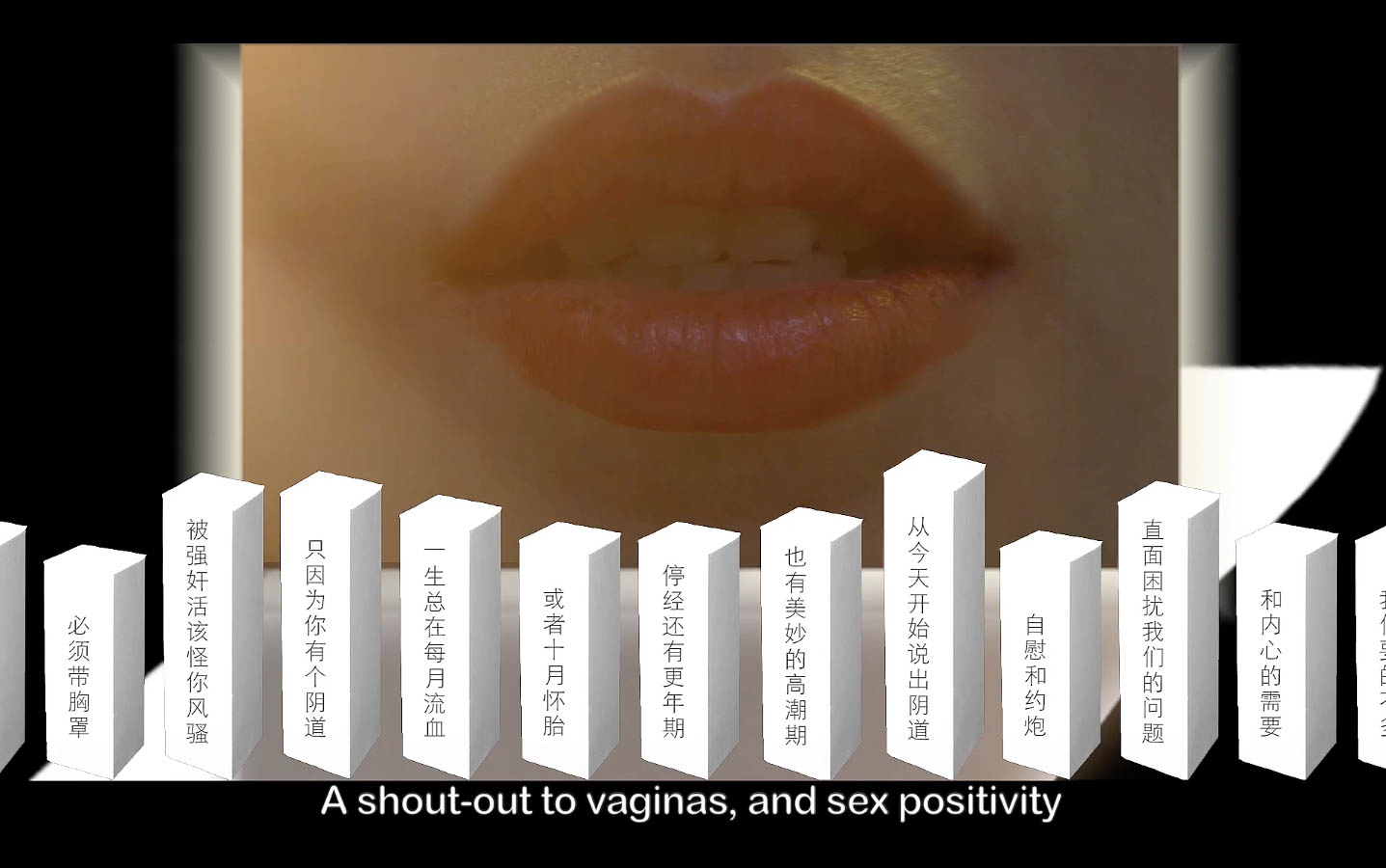 +